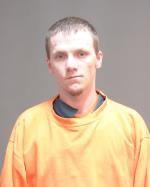 A Benson man told Willmar Police the bomb they found in his vehicle was just a sparkler. Randy Frederiks, 31, was arraigned in Kandiyohi County District Court Thursday on several charges, and is being held on $20,000 bail.
Frederiks was found in a pickup truck just north of the Willmar City limits on Monday afternoon, and told police he had run out of gas. As police checked the status of his license, Frederiks jumped out of the truck and ran through a cornfield toward Eagle Creek Golf Course and got away.
Kandiyohi County Sheriff Eric Holien says while taking inventory of the truck, deputies found an object that appeared to be a bomb. The Minneapolis Bomb Squad was notified, determined the object contained explosive components, and rendered it safe at the time. The object was about seven inches tall and four inches wide, covered with black electrical tape and had a detonating fuse. Inside it had 178 grams of black powder and BBs or shotgun shot inside an energy drink can.
On Wednesday morning, Frederiks was arrested inside a car parked near a Willmar restaurant. He admitted he was the suspect who had been in the pickup. He told officers the bomb was a homemade sparkler, and thought it was legal. Police also found hypodermic needles in the pickup and the second car he was found in, as well as 1.2 grams of methamphetamine.
Frederiks has been charged with possessing an explosive incendiary device while having been previously convicted of a violent crime, possessing an explosive incendiary device with Controlled Substances, Fifth Degree Drug Possession, all three felonies, as well as Fleeing Police and Possessing hypodermic needles, both misdemeanors. Those charges are in connection with the pickup incident.
He faces additional charges of Felony Drug Possession and Possession of Hypodermic Needles for the incident outside the Willmar Restaurant. In court Thursday Frederiks was given a court appointed attorney, and his next court appearance, a pre-trial hearing, was set for September 26th.
(JP Cola, KWLM)
Share this article