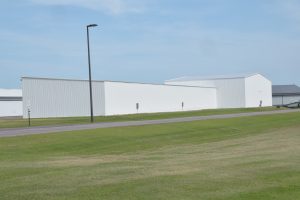 Every year, about 14,000 planes or helicopters either land or take off from the Redwood Falls airport.
Because of that increasing use, the city has spent the past several years working on improvements or enlargements to the airport. According to Jim Doering, Public Works Project Coordinator for Redwood Falls, in 2012 the city already had a waiting list of airplan owners wanting to make use of the airport's existing hangers:
In 2012, the city developed a plan for additional hangers and parking, a plan that would make use of much funding from the federal government. Between 2014 and 2016, the city completed land acquisition and obstruction removals to acquire control over runway protection zones and obtain clear approaches to each runway.
In early 2017, the city finalized its plan for construction of two corporate bay hangars, one turboprop bay hangar, and four general aviation hangars, at a cost of about $1.38 million, 90 percent of which was funded by the Federal Aviation Administration. Five percent of the cost — $69,000 — was provided to meet the local cost share, and another five percent was provided by the Minnesota Department of Transportation Aeronautics.
Construction began on May 14 of last year, with the new hanger completed in November. All seven new hangars began their lease occupancy with the city on Jan. 1 of this year.
The new hangars have attracted new tenants and three new aviation-based businesses to the airport. The hangars are projected to pay off the city's cost in five years. The additional operations, fuel sales, and lease revenue will allow the Redwood Falls Municipal Airport to plan for the next expansion.
That's all great, but the city isn't finished yet. According to Doering, the city's goal is to get up to 20,000 operations a year — that is, 20,000 times an airplane or helicopter either takes off or lands at the Redwood Falls airport.
If that happens, the city already has plans for expanding the airport further as demand for it increases:
If you'd like more information about the expansions at the Redwood Falls airport, both recent and future, give city hall a call a 507-616-7400.
Share this article