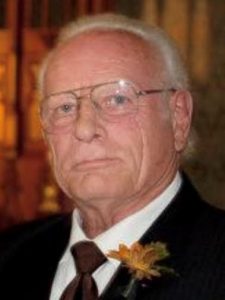 Gerald "Jerry" Stimpert age 79, of Sleepy Eye, MN died on July 10, 2019, at Divine Providence Community Home in Sleepy Eye, MN.
Visitation will be on Sunday, July 14, 2019 from 4 to 7 pm and will continue on Monday from 7:30 until 10 am at the Sturm Funeral Home, Sleepy Eye.
Service will be held at the St. Mary's Catholic Church, Sleepy Eye, on Monday, July 15, 2019 at 10:30 am.
The clergy will be Father Andy Michels.
Interment will be at the St. Mary's Catholic Cemetery in Sleepy Eye, MN.
Arrangements are with the Sturm Funeral Home in Sleepy Eye, Minnesota.
On line condolences may be left for the family at www.sturmfh.com.
Jerry was born on October 30, 1939 in Sleepy Eye, MN the son of Arnold & Margaret (Ubl) Stimpert. He was a 1958 graduate of St. Mary's High School. On February 14, 1961 he was united in marriage to Rosemary Eckstein at St. Mary's Catholic Church. He was co-owner of Stimpert Enterprise Homes, retiring in January 2016. He liked to build and could make anything out of practically everything. He was a talented and gifted man. Jerry had many hobbies and interests including gardening, canning, firearms and ammo, the History Channel, reading, WWII German memorabilia, hunting, fishing, coffee and especially his family. Papa Jerry will be greatly missed by his grandchildren and great grandchildren.
Jerry is survived by his children, Lori (Don) Swenstad, Beverly (James) Schindele, Michael (Amy) Stimpert, grandchildren and great grandchildren, Ryan (Jessica) Weilage & children, Emma, Ellie and Eli, Christopher Weilage (Michelle Roiger) & daughter, Alyce, Dustin (Megan) Swenstad & sons, Jack, Henry, William and Luke, Geri Swenstad & daughters, Briella and Charlee, Kristen (Shawn) Guenzler, Mary (Troy) Seitzema, Jennifer (Rick) Hinderman & children, Kenedi, Logan and Landon, Stephanie Nord (Cody Clifford) & daughters, Brooklyn and Ava and Cody's children, Gavin, Kenna and Ty and Jamie Stimpert. He is also survived by sister-in-law, Lillian Stimpert, nieces, nephews, cousins, friends and many acquaintances. He was preceded in death by his parents, wife, Rosie in 2017, mother & father-in-law, Otto & Mary (Schroepfer) Eckstein, brother, Merton, sisters, Patricia (Jerry) Stoneberg, Joan (Harold) Apitz, sister, Jean in infancy, in-laws, Cyril (Loraine) Eckstein & William E. "Bill" Eckstein, aunts, uncles and cousins.
In lieu of flowers Jerry would prefer memorials to Divine Providence Community Home, Sleepy Eye Medical Center, St. Mary's Church and School or the donor's choice.
Share this article