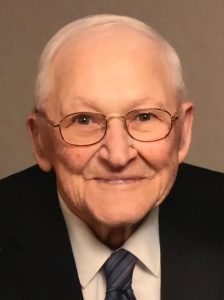 Orlando "Lindy" P Meyer age 93, of Lamberton, MN died on June 11, at
Oak Hills Living Center in New Ulm.
Visitation will be on Friday, June 14, from 4:00 pm to 8:00 pm at the
Sturm Funeral Home in Lamberton and will continue on Saturday from 10:00 am
until 11:00 am at the Zion Lutheran Church in Springfield.
Service will be held at the Zion Lutheran Church in Springfield on Saturday
at 11:00 am.
The clergy will be Pastor David G. Fretham. Interment will be at the Zion
Lutheran Cemetery in Springfield.
Arrangements are with the Sturm Funeral Home in Springfield. On line
condolences may be left for the family at www.sturmfh.com.
Orlando "Lindy" Paul Meyer was born on December 1, 1925, in Moltke Township
in Sibley County, MN, son of Paul W. and Rebecca (Melhop) Meyer. He grew
attended St. Peter's School in Moltke Township outside Gibbon, MN.
He was drafted and served in the US Navy until the end of WWII. Following
five years of working on wheat and cattle ranches in Montana, he moved back
to Minnesota and married Eleanor Wojahn on June 25, 1955, in Windom, MN.
The couple made their home in Sleepy Eye, moved to Montevideo for a short
time before moving to Clarkfield for a few years. They then bought a farm
outside Sanborn where they lived for many years raising their children. He
drove steel roller for McLaughlin & Schultz for many years. He retired from
both road construction and farming in 1988. Orlando and Eleanor moved to
Lamberton in 2005.
Orlando enjoyed fishing, hunting, quick conversation, drinking coffee,
spending time with friends and family, playing cards and in post-retirement
he enjoyed gardening.
Survivors include his children Gary (Lori) Meyer of Montevideo, Glen Meyer
of St. Paul and Julie Meyer and partner Bennett Parsons of Minneapolis. His
grandchildren are Drew Meyer and partner Rachael Barker of Bloomington,
Preston Meyer of Nicollet and step-grandson Brandon (Bea) Cobb of
Montevideo. His sisters Marilyn Kiecker of Fairfax and Yvonne (Virgil)
Swanson of Madison and in-laws Gloria Meyer of New Ulm, Vera Meyer of
Hutchinson, Melvin (Romelle) Wojahn of Windom, JoAnn Wojahn of Little
Canada, Orville (Janice) Wojahn of Windom, Carolyn (Wes) Strausser of
Welcome and many nieces, nephews, and friends.
He was preceded in death by his wife Eleanor (2006), parents Rebecca and
Paul, siblings Eleanora (Joe Hinz & Bob) Johnson, Melvin (Marvel) Meyer,
Raymond (Evelyn) Meyer, Minnie (Reuben) Fenske, Harold (Gladys) Meyer,
Warren (Ruth & Lucille) Meyer, Don Kiecker, Roger Meyer, Ernest Wojahn,
Robert (Sheri) Wojahn, and Wilbur (Sandy) Wojahn.
Share this article