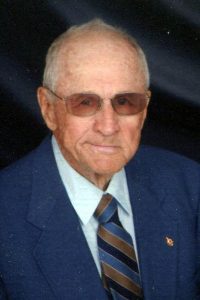 Charlie Buboltz, age 87, of Bird Island died Thursday, June 6, 2019 at his home near Bird Island.  Memorial services are Friday, June 21st at 11:00 a.m. at Our Savior's Lutheran Church in Bird Island with Rev. Mandy France officiating. Burial will be in the Bird Island City Cemetery. Visitation is Friday from 9:30 to 11:00 a.m. at the church. Arrangements are with Dirks-Blem Funeral Service of Olivia.
Charles Edwin Buboltz was born January 29, 1932 to Edwin and Minnie (Johnson) Buboltz in Hillside Cemetery, Minneapolis, MN where his parents were caretakers. When he was four his family moved to the farm south of Bird Island where he has resided ever since. Charlie graduated from Bird Island High School in 1949. He was united in marriage to Delores "Lorrie" Beckler on June 23, 1951 at Our Savior's Lutheran Church in Bird Island and they were blessed with four sons.  Charlie and Lorrie farmed together and besides raising crops they had dairy cows, chickens, hogs, and feeder cattle. He was a longtime member of Our Saviors Lutheran Church where he had also served on church council. In his spare time he enjoyed outings to the lake with family members and going fishing with his sons. Charlie truly loved being a farmer and even helped his son with field work through last year's harvest.
Charlie is survived by his wife Delores Buboltz of Bird Island; his sons: Greg (and Lori) Buboltz of Wahpeton, ND, Robin (and Jane) Buboltz of Naples, FL, and Tim Buboltz of Bird Island; his daughter-in-law Diane Buboltz of Naples, FL; his five grandchildren: Jessica Buboltz (and Bradley Seiman), Daniel (and Ashley) Buboltz, Erik (and Carola) Buboltz, Jeremy (and Lisa) Buboltz, and Kjerstin Buboltz (and Andreas Oines); his four great-grandchildren: Kyle and Ashley Buboltz and Anthony and Eloise Buboltz; his step-granddaughters: Kim (and Mac) Reiser and Toni Eterose; and his brother-in-law Jim Leonard of Lake Placid, FL. Charlie was preceded in death by his parents; his son Keith Buboltz; and his sister Donna Mae Leonard.
Blessed Be His Memory
Share this article