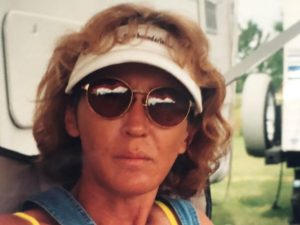 Jodie Joy Kuiken, age 62, of Starbuck, died Tuesday, June 4, 2019, at the University of Minnesota Medical Center in Minneapolis.  Funeral services will be 11:00 a.m. on Tuesday, June 11, 2019, at Our Savior's Lutheran Church in Sacred Heart.  The Rev. Dale Svendsen will officiate.  Burial will be at a later date in Fairview Cemetery in Renville.  Visitation will be Monday from 5-7 p.m. and will continue on Tuesday one hour prior to the services all at the church in Sacred Heart.  Arrangements are with Dirks-Blem Funeral Service, Renville, Minnesota.
Jodie Joy Kuiken was born on May 29, 1957, in Granite Falls, Minnesota to Marvin and Beverly (Imes) Kortgard.  As a young child, she and her family lived in Sacred Heart and later moved to Granite Falls.  She was united in marriage to Pete Kuiken on September 8, 1973, at Our Savior's Lutheran Church in Sacred Heart.  They lived in the Renville/Granite Falls area until 1986, when Jodie and Pete moved to Grapevine, Texas.  Jodie worked for a couple of attorneys until 1991, at this time she started Jona Contracting, Inc. and operated that until 2014.  Following her retirement in 2014, Jodie and Pete moved back to Starbuck, Minnesota so she could take care of her parents.  She loved her dogs, living at the lake, off roading in her Jeep, and taking trips in the motorhome.  Most of all however, she loved spending time with her kids and grandkids.
She is survived by her husband Pete of Starbuck, her son and daughter: Jason of Texas, and Dominique of Starbuck; her grandchildren: Garrett, Charlienne, and Paulette Kuiken; her parents Marvin and Beverly of Starbuck; and her brothers: Vern (and Vicky) Kortgard of Willmar, Jerry (and Kris) Kortgard of Excelsior, and Dell (and Paula) Kortgard of Granite Falls; several nieces, nephews, and other relatives and friends.
Dirks-Blem Funeral Service, Renville, MN
Share this article