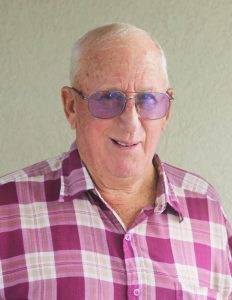 Richard L. Aarons, 84, of Eden Valley died Friday, February 8, 2019, in McAllen, TX.  His memorial service will be 11:00 am Saturday, May 18, 2019, at Paynesville Lutheran Church in Paynesville.  In lieu of flowers, memorials are suggested to your favorite charity.  Services are entrusted to Johnson Funeral Home in Paynesville.
Richard Lowell Aarons was born May 18, 1934, in Albert Lea, Minnesota, to Simon Peter and Emelia (Petersen) Aarons.  On September 27, 1956, he married Novella Chappell at Calvary Lutheran Church in Rio Lina, California.  Richard passed away Friday, February 8 in McAllen, Texas of natural causes.  Richard and Novell had been Mission, Winter Texans for 17 years.
Richard is survived by his wife of 62 years, Novella and their children: Richard (Kathy) of Plymouth, Clifford of Marshall, Peggy (Kerry) of Koller of Duluth, and Patricia (Chris McGrill) Aarons of Brooklyn Center; grandchildren: Merissa (Owen), Andrew (Emily), Harry (Willow), Erica, Cameron, Emily and Jenna; great-grandson, Bering; and his Icelandic exchange student, Saeja Kristmannsdottir .  Richard is also survived by his brother, Jerry (Anne) and sister, Mary Ellen Dunn who reside in the Sacramento, California Area.  He was preceded in death by two brothers and two sisters.
Richard lived most of his life in Redwood County, Minnesota.  He held many jobs but found his niche working with local farmers, selling fertilizer and chemicals for Redwood Farm Chemical, now Meadowland Co-operative.  Richard had a gift of gab and truly loved his customers.  There was no one he didn't like!
Richard's family did lots of tent camping, including a trip to Alaska.  Water sports and "going to the lake" were family favorites.  In 1991, he and Novella built a home on Long Lake in Kandiyohi County and also became grandparents.  Grandpa loved those kids unconditionally!  What fun the bunch had fishing, skiing, and tubing.  Richard loved anything with fins and gills, and talking fishing was a tough thing to stop!  In 2011 Richard and Novella moved to the Eden Valley Area.
Share this article