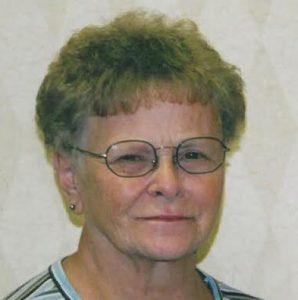 Phyllis Ann Schmidt, age 84 of Redwood Falls, passed away Wednesday, March 13, 2019 at Olivia Rehabilitation and Healthcare Center.  Mass of Christian Burial will be held at 10:30 a.m. Monday, March 18 at St. Catherine's Catholic Church in Redwood Falls.  Visitation will be 4:00-7:00 p.m. Sunday, March 17 at Redwood Valley Funeral Home with a Rosary at 6:30 p.m. and prayer service to follow.  Visitation will continue one hour prior to the service at church on Monday.  Interment will be in the St. Catherine's Catholic Cemetery.  In lieu of flowers, memorials are preferred to the Alzheimer's Association.  Online condolences may be sent at www.stephensfuneralservice.com.  Stephens Funeral Service – Redwood Valley Funeral Home is assisting the family with arrangements.
Phyllis Ann Schmidt was born May 6, 1934 to James and Sophia (Pistulka) Shemon on a farm near Lucan, Minnesota.  She was baptized and confirmed in the Catholic faith.  Phyllis graduated from Wabasso Public School.  On October 10, 1953, she married Elmer Schmidt at Our Lady of Victory Catholic Church in Lucan.  Phyllis was a member of St. Catherine's Catholic Church and attended faithfully. She was very proud of her Bohemian heritage and attended the Czech Fest often.  Phyllis loved polka music and dancing to it.    She loved generously and had a very accepting heart.  Phyllis enjoyed cooking, baking and doing puzzles.  She was an avid Vikings and Twins fan and loved to sit outside to enjoy the sunshine.  Family was very important to her and she loved spending time with her grandkids, especially coloring with them.
Phyllis is survived by her children: Nancy Serbus of Redwood Falls, Randy (Carla), Al (Rhonda) both of Worthington, Kevin (Yvonne) of Jackson, and Jeff (Joan) of Redwood Falls; 18 grandchildren; 13 great grandchildren; sister Arlene Peterson of New Hope; sister-in-law Bea Shemon and many nieces and nephews. She is preceded in death by her parents, husband Elmer, and three brothers Vernon, Richard and Eugene.
Share this article