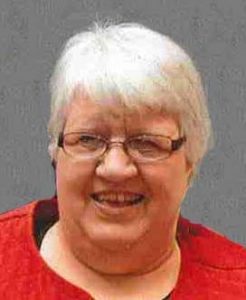 Betty Lou Mickelson, age 81 of Springfield, on March 8, at St. John Lutheran Home in Springfield.
Visitation will be on Thursday, March 14, from 10:30 am to 11:30 am at the St. John Lutheran Home in Springfield.
Service will be held at the St. John Lutheran Home in Springfield on Thursday, March 14, at 11:30 am.
The clergy will be Chaplain Noel Wetter.
Interment will be at the Home Cemetery in Sleepy Eye.
Arrangements are with the Sturm Funeral Home in Springfield.
On line condolences may be left for the family at www.sturmfh.com.
Betty Lou Mickelson, the daughter of George and Gladys (Claussen) Mickelson was born on November 30, 1937 in Sleepy Eye, MN. She lived on the family farm in Leavenworth until she became a resident of St. John Circle of Care in August 2010. Betty was a homemaker and helped out on the farm. She enjoyed puzzles, birds, doing gardens and flowers, listening to country music especially Elvis Presley, Johnny Cash, and Merle Haggard, and reading poems and books. She had the love of caring and babysitting for nieces and nephews, great nieces and nephews, and neighbor children. Betty loved Halloween, knowing lots of children would stop by and loved seeing the costumes. She had a love for chickens, cows, and especially dogs, mostly Collie dogs.
Betty died on Friday, March 8, 2019 at St. John Circle of Care in Springfield at the age of 81.
She is survived by her two sisters – Verna Suess and Lois Nelson both of Sleepy Eye and many nieces and nephews. Betty was preceded in death by her parents, brother Wesley, sisters Evelyn and Della, 1 sister-in-law, and 6 brothers-in-law.
Share this article