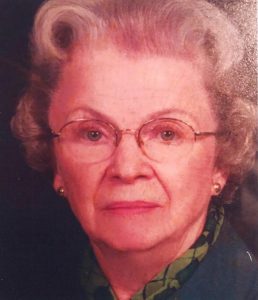 Dellis Lorraine Schroeder, age 91, of Danube, died Saturday, March 2, 2019, at the RenVilla Nursing Home in Renville.  Service will be held at a later date at Zion Methodist Cemetery south of Danube.  Arrangements are with Dirks-Blem Funeral Service, Renville.
Dellis Lorraine Schroeder was born on August 20, 1927, at her grandmother's home in Renville, Minnesota to Harry C. and Martha I. (Butenhoff) Prodoehl.  Upon her father's entrance into the Veteran's hospital, the family moved to Minneapolis.  In 1934, she lived with the Herman Becker family in rural Henryville Township until she graduated from Danube High School.  She continued her education at the Minneapolis Business College and worked for Pillsbury.  On June 24, 1948, she married Loren F. Schroeder at Middle Creek Church.  They lived in Willmar until moving to Danube in 1952.  She enjoyed being a homemaker and a mom while working as a clerk at Wingate's and later as an accountant for Renco Gas and Public Health.  She was an active member of the Danube United Methodist Church.  She enjoyed reading, sewing, gardening, and traveling with her family.
She is survived by her children:  Victoria (and Mark) Meredith of Stewartville, MN, and Blake (and Jane) Schroeder of Danube; her six grandchildren:  Kari, Benjamin, Alyssia, Karla, Kellin, and Tony; her 12 great grandchildren:  Jozef, Dylan, Zoe, Maizie, Aidan, Taia, Raylan, Alayna, Petyon, Marly, Reagan, and Espen.  She was preceded in death by her parents, her husband Loren in 1998, her brother Kenneth, an infant grandson Joel, an infant great grandson, and her childhood family members.
Blessed Be Her Memory
Share this article