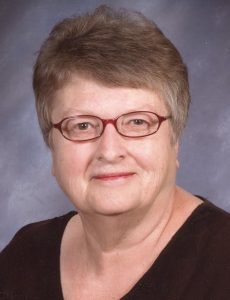 Barbara Ann Ross, age 71, of Renville, died Thursday, March 7, 2019, at her home in Renville.  Mass of Christian Burial will be 10:30 am. on Wednesday, March 13, 2019, at Holy Redeemer Catholic Church in Renville. The Rev. Joseph Steinbeisser will be the celebrant.  Burial will be in Ebenezer Presbyterian Cemetery north of Renville.  Visitation will be Tuesday from 5-7 p.m. at the Dirks-Blem Funeral Home in Renville.  Visitation continues on Wednesday one hour prior to the services at the church in Renville.
Barbara Ann Ross was born on August 28, 1947, in Marshall, Minnesota to Leo Jerome and Sarah Luella (Dirnberger) Wurscher.  She grew up in the Belview area and graduated from Belview High School in 1965.  After graduation, she worked at the University of Minnesota in Minneapolis.  Barb was united in marriage to Roger Ross on October 24, 1970, at Holy Redeemer Catholic Church in Renville.  Barb and Roger lived on their farm north of Renville and there they raised their family.  Barb also worked at the RenVilla Nursing Home as a cook for many years.  After Roger passed away, Barb continued to live on her farm until moving into Meadows on Main in June of 2017.  She was an active member of Holy Redeemer Catholic Church and the CCW, a Red Cross Volunteer, and a member of the Get Together Club of Crooks Township.  She enjoyed sewing and quilting, playing cards and working on puzzles, working on family history, spending time at her cabin on Pelican Lake, and spending time with her grandchildren.
Survivors include her daughters and son: Lisa (and Torey) Rosenboom of Marshall, Debra Skow of Midland, SD, and Ryan (and Kelly) of Renville; seven grandchildren:  Autumn, Alex, and Nathan Skow, and Aidan, Logan, Kaitlyn, and Emily Rosenboom; and other relatives and friends.  She was preceded in death by her parents, and her husband Roger.
Blessed Be Her Memory
Share this article