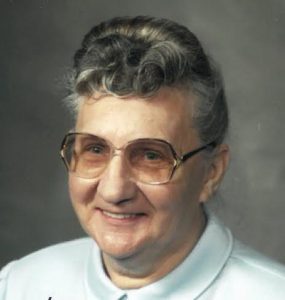 Esther Hawton, age 92 of Redwood Falls, passed away Wednesday, March 6, 2019 at Gil-Mor Manor in Morgan.  Funeral Services will be held at 10:30 a.m. Monday, March 11 at Redwood Valley Funeral Home in Redwood Falls.  Visitation will be 5:00-7:00 p.m. Sunday at the funeral home.  Visitation will continue one hour prior to the service on Monday.  Interment will be in the Redwood Falls Cemetery. Online condolences may be sent at www.stephensfuneralservice.com .  Stephens Funeral Service – Redwood Valley Funeral Home is assisting the family with arrangements.
Esther Hawton was born May 22, 1926 to Fay and Hattie (Taubert) Castle in North Redwood, Minnesota.  She attended school in North Redwood until 8th grade and was proud that she went back to school in Marshall, where she received her GED.  On August 30, 1952, Esther married Warren Hawton in Redwood Falls.  She worked as a waitress at the Cardinal Café and Mint Café.  Later Esther worked for the R.E.M. Homes until retiring in 1989.  Esther was a member of a non-denominational church.  She always had a deep love and appreciation for other members and workers of her faith.  They were like a second family to her.  When Esther was no longer able to travel to church, she loved when church members would come to her home and host their services.  She enjoyed bird watching and collecting bird memorabilia.  Esther loved reading, doing embroidery, and watching Wheel of Fortune and Jeopardy.  She also enjoyed doing crossword and jigsaw puzzles.  Her face would always light up when she received visits from her grandchildren and great grandchildren.
Esther is survived by her children: Diana Hawton, Richard Hawton both of Redwood Falls, Russell Hawton of Brooklyn Park, Beth (Don) Leopold of Redwood Falls, and Linda Wildeman of Worthington; grandchildren: Jason (Lydia) Wildeman, Michael (Rachel) Wildeman, Amanda (Dan) Ascherl, Angela Hawton, Scott (Casey) Leopold, and Lindsey (fiancé Scott) Hawton; great grandchildren: Lily & Harper McCullough, Nolan, Elsie, Grant & Brynn Leopold, Isabella, Tenley, Ryder & Berklee Ascherl, and Henri & Blair Wildeman; sister Helen Van Slooten of Redwood Falls; and many other relatives and friends. She is preceded in death by her parents, husband Warren, six brothers, four sisters and special niece Cheryl Prescott.
Share this article