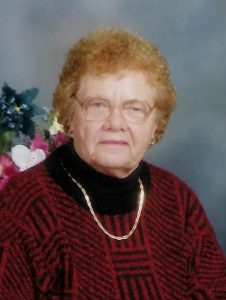 Angie Kahout, age 97, of Olivia died Saturday, February 9, 2019 at the RenVilla Nursing Home in Renville. Mass of Christian Burial will be Friday, February 15th at 10:30 a.m. at St. Aloysius Catholic Church in Olivia with concelebrants Rev. Joe Steinbeisser and Rev. Jeff Horejsi. Burial will follow in the church cemetery. Visitation for Angie is Thursday, February 14th from 4-7 p.m. at Dirks-Blem Funeral Home in Olivia ending with a prayer service. Visitation will continue on Friday at the church for one hour prior to the mass.
Angela Marie Kahout was born June 20, 1921 in Henryville Township, rural Olivia, MN, to Joseph and Louisa (Senkyr) Kodet. She grew up on the family farm and attended country school. Angie married Benjamin Kahout in October, 1943 and they were blessed with two sons and three daughters. They farmed together for many years. Angie raised chickens, had a large garden, and canned many items from her produce. In 1977 they retired and moved into Olivia. Benjamin died in 1978 and since then Angie had maintained her own home up until entering the RenVilla Nursing Home six months ago. After Benjamin died Angie had worked at the Renville County Hospital in Olivia in the dietary department for several years. She also purchased a cabin on Diamond Lake and it was there she had many wonderful family gatherings. Angie had been a 4-H leader, enjoyed tending her green plants, playing cards and loved working on word find puzzles. Her faith was very strong and much of her life revolved around her church. At St. Aloysius Catholic Church Angie often attended daily mass, enjoyed quilting for missions, was active in the Altar and Rosary Society, and assisted at serving meals at many funeral and other events.
Angie is survived by her children: Betty (and Harvey) Mathiowetz of Olivia, Gary Kahout of Bechyn, Lavonne (and Gerald) Schmidt of Derry, NH, and Janet (and Ivan) Alto of St. Bonifacius; her 18 grandchildren and 17 great-grandchildren; and her brother Bonnie Kodet of Cross Lake. Angie was preceded in death by her parents; her husband Benjamin, her son Steven Kahout; her grandson Todd Mathiowetz; and her brothers: Elmer Kodet, Leonard Kodet, and Otto Kodet.
Share this article