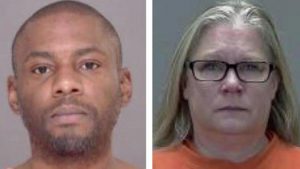 The woman charged with helping her boyfriend, accused killer Caleb Blue, avoid arrest appeared in Kandiyohi County District Court Thursday morning. 51-year-old Lori Gafkjen of Brooten is charged with 2 counts of Aiding an Offender After the Fact and Aiding an Offender to Avoid Arrest, all felonies.
Court records say Gafkjen is a former jailer at The Kandiyohi County Law Enforcement Center where she met Blue, and the two became boyfriend and girlfriend. On October 25th, Blue and 24-year-old David Medellin of Willmar went to an area casino. On the way home, Blue is accused of stopping the car, stabbing Medellin and chasing Medellin as he ran into a field and died.
Afterwards, Blue reportedly called Gafkjen for a ride home, and she took him to a doctor in Glenwood for a wound to his hand. The two were arrested together at a motel in the Twin Cities November 6th. Gafkjen had been slated to stand trial twice, on January 24th and January 29th but both those dates were cancelled. She appeared before Judge Rodney Hanson for a contested omnibus hearing. No future court date has been listed as of yet. In November, bail was reduced from $250,000 conditional to $50,000 conditional.
Last week Blue, 35, was indicted by a Kandiyohi County Grand Jury on a charge of 1st Degree Premeditated Murder and will appear in Kandiyohi County District Court tomorrow at 9 a.m. He is being held in the Kandiyohi County Jail on $2 million bail.
Share this article