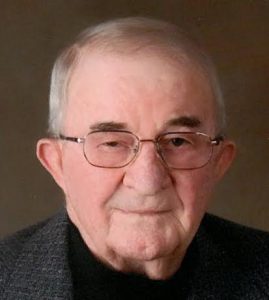 Gerald "Jerry" Guy Larsen, age 87 of Redwood Falls, passed away Tuesday, February 5, 2019 at Season's Hospice House in Redwood Falls.  Memorial Services will be held at 11:00 a.m. Friday, February 8 at Redwood Valley Funeral Home in Redwood Falls.  Visitation will be 4:00-7:00 p.m. Thursday, February 7 at the funeral home.  Visitation will continue one hour prior to the service at the funeral home on Friday.  Interment will be in the Redwood Falls Cemetery at a later date.  Online condolences may be sent at www.stephensfuneralservice.com .  Stephens Funeral Service – Redwood Valley Funeral Home is assisting the family with arrangements.
Gerald "Jerry" Guy Larsen was born November 8, 1931 to Carl and Eva (Wickwire) Larsen in Milroy, Minnesota.  He was baptized and confirmed in the Lutheran faith.  Jerry graduated from Redwood Falls High School in 1950.  He served in the U.S. Army and was honorably discharged in 1952.  Jerry was united in marriage to Donna Carity in 1953 and to this union two children were born, Michael and Ruth.  In 1961, Jerry married Susan Symes and together they had two children, Robert and Rachel.  He surveyed land for the highway department and loved working outside.  Jerry was a member and previous commander of the Redwood Falls American Legion.  He loved gardening and working with pigs and chickens on his hobby farm. He was a hard worker and enjoyed deer hunting. Jerry never complained when his health was failing.  He was a very selfless person, a wonderful father and always put his children first.
Gerald is survived by his former wife Susan; children: Michael (Lori) Larsen, Ruth (Marty) Moreno, Robert (Michelle) Larsen, and Rachel (Brian) Anderson; 11 grandchildren; 8 great grandchildren; nephew Dean (Linda) Leenerts; many nieces and nephews; and siblings: Letha Becker, Molly Schefus, Sharon Timgren and Allan Larsen. He is preceded in death by his parents, brother Ronald Larsen and sister Linda Evans.
Share this article