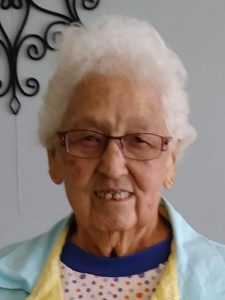 Delores "Dee" Olson, age 85, of Bird Island, , died from congestive heart failure on Wednesday, January 16, at RC Hospital in Olivia. A private graveside service will be held at a later date at the Bird Island City Cemetery.
Delores Ann Olson was born July 21, 1933 in Montevideo, MN, to Herbert and Hazel (Sanderson) Krenz. She grew up in Montevideo and graduated from Montevideo High School. Dee married Wendell "Butch" Olson on June 15, 1952 at St. Paul's Lutheran Church in Montevideo and they were blessed with two sons and two daughters. Butch and Dee made their home in Montevideo, Appleton, Milan, and Renville and then in 1964 moved to Bird Island where she has resided ever since. Dee was a homemaker and worked for many years doing seamstress work. She had enjoyed fishing, hunting, sewing, and playing solitaire and the game of Hearts on her computer. Dee also loved socializing with neighbors and friends around a bonfire, listening to the BOLD Warriors games, and discussing and discovering her family history….and part of Dee's history is that she brought all four of her children into this world on a Wednesday twenty-three months apart and she also left this world on a Wednesday.
Dee is survived by her four children: Katherine Maddock of Bird Island, Steven (and Rose) Olson of Olivia, Wesley (and Susan) Olson of Glencoe, and Sheila (and Tom) Jacobs of Olivia; 13 grandchildren; 19 great-grandchildren;  two great-great-grandchildren; and her sister Betty Brown of Minneapolis.  Dee was preceded in death by her parents; husband Butch; sisters Alvina and Marlys; one grandson Matthew; and one great-granddaughter Christine.
Share this article