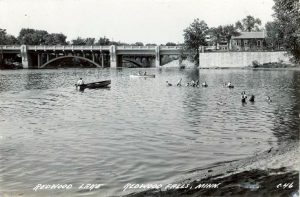 State Senator Gary Dahms said this week he is confident funding for the Lake Redwood dredging project will be restored this year.
Funding for the project was officially approved in the last legislative session, signed into law by Governor Dayton, and became effective July 1.
Then, last autumn, the St. Paul-based Minnesota Center for Environmental Advocacy, MCEA for short, filed a lawsuit against the state to stop funding for 11 projects with a total cost of $98 million. Of that, $7.3 million was set aside to dredge Lake Redwood from its current depth of approximately two feet to its original depth of between 17 and 22 feet.
The MCEA claims funding for those projects is unconstitutional since it comes from an environmental trust fund instead of general state funds.
Senator Dahms told KLGR this week sees one of three things happening. One: the court throws out the lawsuit and lets the projects proceed as planned. Two: the court sustains the lawsuit and the projects just get stopped in their tracks. And three: the court sustains the lawsuit, but the state legislature finds funding from other state sources before the session ends in a few months.
Dahms said:
Dahms added that if the funding issue is worked out at the state level this year, it might still postpone the Lake Redwood dredging project for a few months or a year at the local level by affecting bidding and scheduling efforts.
Share this article