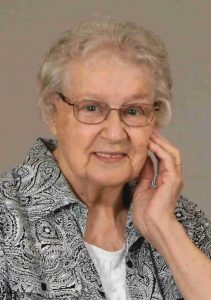 Cecelia M. Wersal age 88, of Sleepy Eye, MN died on December 6, 2018, at Sleepy Eye Care Center.
Visitation will be on Sunday from 2 to 5 pm and will continue on Monday from 7:30 until 10 am at the Sturm Funeral Home, Sleepy Eye.
Service will be held at the St. Mary's Catholic Church, Sleepy Eye, on Monday, December 10, 2018 at 10:30 am.
The clergy will be Msgr. Eugene Lozinski.
Interment will be at the St. Raphael's Catholic Cemetery in Springfield, MN following the luncheon.
Arrangements are with the Sturm Funeral Home in Sleepy Eye.
On line condolences may be left for the family at www.sturmfh.com.
Cecelia M. Wersal was born on August 14, 1930 on the family farm near Springfield, MN to Andrew J. & Anna (Mader) Vogel. She grew up on the farm and attended country school. She married Peter W. Wersal on May 24, 1950 at St. Raphael's Catholic Church in Springfield. After marriage they moved to Sleepy Eye where she enjoyed being a homemaker. Cecelia was a member of St. Mary's Catholic Church. She volunteered calling bingo at Divine Providence. She also volunteered peeling potatoes and apples at church and making smearkucken. She enjoyed fishing, shaking dice at Ross Park, baking, playing bingo, gardening and canning vegetables, meats and fruits.
She is survived by her children, Thomas (Lois) of New Ulm, Rita (Dennis) Tauer of Fall River, WI, Steven (Kathleen) of Sleepy Eye, Mark (Mary) of Comfrey, Peter Jr. (Sheena) of Sleepy Eye, 10 grandchildren, 14 great grandchildren, sister, Rosella Groebner of Springfield, brother-in-law, Melvin Polzin of Belview, sisters-in-law, Kathy Vogel of Sanborn and Marian Vogel of Janesville, WI and many nieces and nephews. She was preceded in death by her parents, husband, Peter, brothers, Andrew, Joseph, Leo, Frank, and Robert, and a sister, Anna Polzin.
Share this article