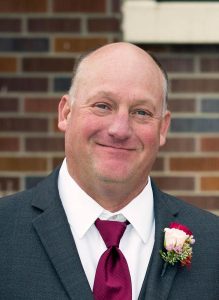 Loren James Hillmer, 51, of Sleepy Eye, passed away unexpectedly on Dec. 3, 2018 at the Sleepy Eye Medical Center.
Visitation will be on Friday from 4 to 7 pm at the Sturm Funeral Home, Sleepy Eye and will continue on Saturday from 10 until 11 am at the church.
Service will be held at the Trinity Lutheran Church, Sleepy Eye, MN, on Saturday, December 8, 2018 at 11:00 am.
The clergy will be Pastor Nathan Luong.
Arrangements are with the Sturm Funeral Home in Sleepy Eye.
On line condolences may be left for the family at www.sturmfh.com.
Loren was born in St. Paul, Minnesota. He attended elementary and high school in Browerville, MN, graduating in 1986. He completed his associate's degree in Diesel Mechanics at Alexandria Technical and Community College. He then moved to Sleepy Eye and began working at Mathiowetz Construction Company, where he worked for thirty years. During his time in Sleepy Eye, Loren met and married Mary Mathiowetz, and they were united in marriage at St. Andrews Church in Fairfax, MN in September 1991. Loren is lovingly remembered by his wife of 27 years, and his children, Carissa, Kaylee, and Colin. Loren's family was his most important accomplishment. Loren spent many years coaching his girl's basketball teams and impacting the lives of players. To Loren, his players were a part of his family and he cherished every moment he spent with them. Loren's favorite hobby, by far, was hunting and fishing with his family and friends. He spent many years teaching his children how to enjoy this hobby with him. Loren also spent countless hours restoring his grandfather's 1944 John Deere "A" tractor to its original condition. He then competed in many tractor pulls, with much success, while his family cheered him on.
Loren is survived by his wife, Mary Hillmer and their children, Carissa (Matthew) Hageman, Kaylee Hillmer (special friend, Cody Leitner), and Colin Hillmer; parents – David and Donna Hillmer, brother – Todd (Jodi) Hillmer, sister – Kristen Hillmer (special friend, John Moos); mother and father-in law, Richard and Agnes Mathiowetz; brothers and sisters-in-law, Myron (Lynn) Mathiowetz, Julie Mathiowetz, Kelvin Mathiowetz, Kris Lang, and many nieces and nephews. Loren was preceded in death by his grandparents, Lawrence and Verena Hillmer; Uncle – Robert Hillmer, brother-in-law – Dan Mathiowetz.
Share this article