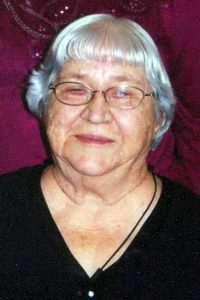 Helen Knudson, age 89, of Olivia died Monday, December 3, 2018 at the RenVilla Nursing Home in Renville. Funeral services are Friday, December 7th at Cross Of Calvary Lutheran Church in Olivia with Rev. Matt Hausken officiating. Burial is in Fairview Cemetery at Renville. Visitation for Helen will be Thursday 4-7 p.m. at Dirks-Blem Funeral Home in Olivia and continues Friday at the church for one hour prior to the service. Memorials may be made to Renville County Hospice.
Helen Mae Knudson was born May 18, 1929 at rural Renville, MN, to Gustav and Elvira (Loving) Johnson, being the fifth of ten children. She grew up on the family farm and attended country school and later Renville public school. After her schooling she worked at several stores in Renville and also helped families with their household duties. Helen married Raymond Knudson on June 16, 1951 at First Lutheran Church in Renville. They made their home at first in rural Montevideo and when Ray served in the U.S. Army in Germany from 1954-1956 Helen moved there to be near him. During that period they were able to travel and sightsee extensively throughout Europe. They returned to Renville and then in 1962 moved to Olivia to establish Kar-Kare. Helen enjoyed helping Ray with the harvest and raising pigs, mowing her large yard, gardening, and feeding the birds on the farm. Other hobbies she enjoyed were reading, sewing, crocheting, doing needlework, crossword puzzles, playing bingo, and putting puzzles together. After Ray's death in 2004 Helen lived at Parkview Village in Olivia and has resided for these past three years at RenVilla Nursing Home in Renville.
Helen is survived by her children: Susan (and Larry) Meyer of Olivia and Douglas Knudson of Olivia; her grandchildren: Casey Meyer (and special friend Diane Amberg), Kelli Meyer (and fiancé Travis Fruth), Scott (and Jennifer) Knudson, and Hannah Knudson; and her great-grandchildren, nieces, and nephews. Helen was preceded in death by her parents; her husband Raymond; and her siblings: Dorothy, Caroline, Erma, Marion, Leonard, Clifford, Donald, Russell, and Wally.
Blessed Be Her Memory
Share this article