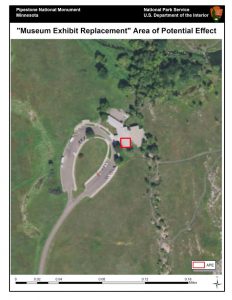 The National Park Service (NPS) welcomes public review and comment on the museum exhibit replacement project at Pipestone National Monument.  The planned new exhibit is titled, "Pipestone: A Sacred Place; A Spiritual Practice."  The current museum exhibits were designed and installed during construction of the Visitor Center in 1958.  Under Section 106 of the National Historic Preservation Act, replacing the museum exhibits will have an adverse effect on the historic Visitor Center, and the National Park Service invites your comments on those impacts.
Working with Pacific Studio, the National Park Service has prepared a design document, accompanying reference materials, and video, which are now available for public comment before the exhibit is finalized and installed.  The park is in the process of working with the Minnesota State Historic Preservation Office to develop appropriate mitigation measures for adverse effects to historic architectural features inside the Visitor Center.  Consultation is ongoing with the park's 23 affiliated Tribes.
How to Review and Comment
Park staff encourage public participation in the historic preservation mitigation planning process.  The park will host a public meeting on Tuesday, November 13, 2018, from 6 to 7:30 p.m. at the Meinders Community Library located at 1401 7th Avenue, NW, in Pipestone.  There will be a short presentation at 6:15 p.m., and park staff will be available to answer questions until 7:30 p.m.  The public is invited to visit at any point during the scheduled time to review materials and provide written comments.
Comments will be accepted through December 31, 2018.  The documents are available electronically for review and comment online by visiting http://parkplanning.nps.gov/ pipe1, the website for the National Park Service Planning Environment and Public Comment (PEPC) system.  Look for "Museum Exhibit Replacement Project."  Comments may also be mailed to the address below:
Superintendent, Pipestone National Monument
36 Reservation Avenue
Pipestone, MN 56164-1269
Before including your address, phone number, e-mail address, or other personal identifying information in your comment, you should be aware that your entire comment – including your personal identifying information – may be made publicly available at any time.  Although you can ask in your comment to withhold your personal identifying information from public review, we cannot guarantee we will be able to do so.  Personal identifying information is not required to comment.  If you have questions about the project or would like more information about Pipestone National Monument, please call the park's Information Desk at (507) 825-5464.
Share this article