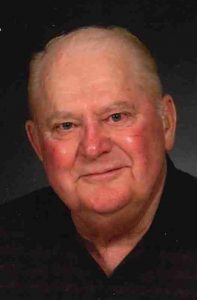 Lloyd Braun age 80, of Sleepy Eye, MN died on October 7, 2018, at Abbott-Northwestern Hospital in Minneapolis.
Visitation will be on Thursday from 4 to 8 pm and will continue on Friday from 7:30 until 10 am at the Sturm Funeral Home, Sleepy Eye.
Service will be held at the St. Mary's Catholic Church, Sleepy Eye, on Friday, October 12, 2018 at 10:30 am.
The clergy will be Msgr. Eugene Lozinski
Interment will be at the St. Mary's Cemetery in Sleepy Eye.
Military Honors by the Sleepy Eye Honor Guard.
Arrangements are with the Sturm Funeral Home in Sleepy Eye, MN.
On line condolences may be left for the family at www.sturmfh.com.
Lloyd A. Braun was born on October 24, 1937 in Sleepy Eye, MN to Henry & Marie (Schumacher) Braun. He grew up in Prairieville Township and attended St. Mary's Catholic School. He served in the U.S. Army from February of 1957 until February of 1959. Lloyd married Suzanne Seidl on June 10, 1961 in Sleepy Eye. He drove truck for 50 years and farmed his entire life. He was a member of St. Mary's Catholic Church. Lloyd had an extensive collection of tractors and cars, loved auctions and Christmas Eve with family. He enjoyed visiting with friends.
He is survived by his wife, Suzanne of Sleepy Eye, children, Mary (Randy) Kraus of Searles, Chris Frauendienst & fiancé Jim Nelson of Arlington, John (Renee) Braun of Sleepy Eye, grandchildren, Alex, Isaac, Elliot & Owen Braun, Jesse & Jada Kraus, Sadie, Rylie, Ron, Lisa Frauendienst, siblings, Rose Goldschmidt of Willmar, Brenda (Jeff) Carlson of Bloomington, Kathleen Braun of Sleepy Eye, Leo Braun of Runaway Bay, TX, Robert Braun of Sleepy Eye, sister-in-law, Shirley (Tom) Kuck of Searles, and sister-in-law, Audrey Braun of Alexandria. He was preceded in death by his parents, brothers, Henry Jr. and Alvin, sister, Joan Abrahamson, father & mother-in-law, Norbert & Viola Seidl and brothers-in-law, Martin Seidl, Gerald Schroepfer, Dale Abrahamson and Milo "Pete" Goldschmidt.
Share this article