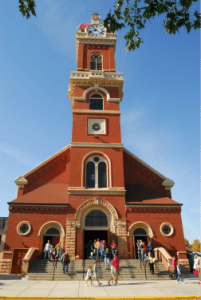 New Ulm Police say they've recovered several items that were stolen from the Cathedral of the Holy Trinity Church.
The church was burglarized by two people on Thursday morning around 6 a.m.  The perpetrators took two challis's, one valued at $1,000, and another valued at $4,000.  Also stolen was a gold-plated challis cover, a chasuble and robe, and a statue of baby Jesus.
On Saturday morning a homeowner on 3rd Street South called police to report they'd found two black trash bags containing the stolen church items.  Police canvassed the neighborhood and collected DNA samples.  Police were able to obtain surveillance video from outside the church, which shows what appears to be a white male and white female suspect entering from the alley.
A $500 reward is being offered for information leading to the conviction of those responsible.
The incident remains under investigation.  The total value of the stolen items was $7,970.
Story from SouthernMinnesotaNews.com
Share this article