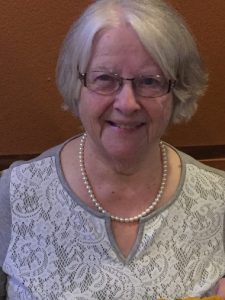 Corrine Bahn, 76, of Wood Lake, passed away on Wednesday, September 12, 2018 at the Parkview Home in Belview.  Funeral services will be 11:00 AM on Tuesday, September 18, 2018 at St. Luke's Lutheran Church, Posen Township, rural Wood Lake.  Visitation will be from 5 – 8 PM on Monday at the Sunset Funeral Home in Echo with a prayer service at 7:30 PM and will continue one hour prior to the service at the church on Tuesday.  The Sunset Funeral & Cremation Association is caring for the family.
Corrine Ann Bahn was born on September 30, 1941 to Glenn and Marie (Hayes) Prairie on the family farm near Cottonwood.  She was baptized at St. Lucas Lutheran Church and Confirmed at Christ Lutheran Church in Cottonwood and graduated from Cottonwood High School.
On December 19, 1959, Corrine was united in marriage to Herman Bahn at Christ Lutheran Church in Cottonwood.  They made their home in Wood Lake where Corrine raised her seven children.  She was a member of St. Luke's Lutheran Church being active with the Ladies aid and teaching Bible school.  In high school, Corrine enjoyed cheer leading and choir.  She also enjoyed sewing, cooking, doing puzzles and following her children and grandchildren's sporting events.  She loved camping at Lake Villard with her husband and family for over 20 years and traveling to Hawaii and Orlando.
On Wednesday, September 12, 2018, Corrine passed away at the Parkview Home in Belview at the age of 76.
She is survived by her husband Herman of Wood Lake; children Kenton Bahn of Oveido, FL, Alan (Gina) Bahn of Wood Lake, Linda (Gary) Raddatz of Wood Lake, Janelle (Todd) Bussuyt of Cottonwood, Galen (Michaelle Vollmer) Bahn of Champlin, Kevin (Betsy) Bahn of New Prague and Steven Bahn of Granite Falls; 14 grandchildren, 7 great grandchildren; siblings Duane (Anita) Prairie, Darleen Cole, Les (Kelly) Prairie and Greg (Linda) Prairie; and many nieces, nephews, cousins and friends.
She was preceded in death by her parents and brother-in-law Jim Cole.
Blessed be her memory.
Share this article