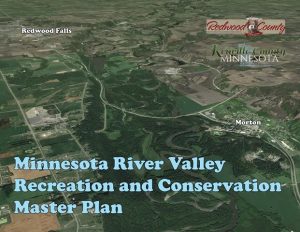 The Minnesota Department of Natural Resources is seeking ideas for a possible Minnesota River Valley State Recreation area in either Redwood or Renville County.
Anyone who wants to provide input will be able to do so through an online survey, which was created to clarify preferences and interests for types of outdoor recreation and interpretive themes.  The recreation area would be within two miles of the Minnesota River.
"A state recreation area can bring a lot of value to a community," said DNR regional director Scott Roemhildt.
The public input options will help DNR planners determine which types of recreation are desired at the proposed state recreation area.  Hunting, fishing, trapping, wifelife observation, walking, and wild edible collecting are popular activities on current state lands.
"This is an opportunity for our citizens to tell the DNR what new outdoor recreation assets they would like to see in the river valley," said Redwood County Environmental Director Scott Wold.
Land for a state recreation area would need to be acquired from willing landowners, and could include existing types of recreation as well as being able to accommodate more of the traditional activities such as horseback riding, shore fishing, and possibly evening mountain biking and interpretation activities.  It could also be used to protect scenic views or historical sites.
More information about the proposed plan can be found at http://www.mnrivervalleymasterplan.org/
Share this article