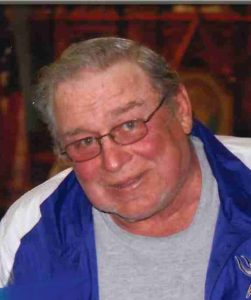 Leon "The Dude" Helget, age 73, passed away unexpectedly on Sunday, July 8, at the Sleepy Eye Medical Center.
Visitation will be on Thursday from 4 to 8 pm and will continue on Friday from 7:30 until 9:45 am at the Sturm Funeral Home.
Service will be held at the St. Mary's Catholic Church, Sleepy Eye, on Friday, July 13, at 10:30 am.
The clergy will be Father Andy Michels
Interment will be at the St. Mary's Catholic Cemetery in Sleepy Eye.
Military Rites by the Sleepy Eye Honor Guard.
Arrangements are with the Sturm Funeral Home in Sleepy Eye.
On line condolences may be left for the family at www.sturmfh.com.
Leon Leonard Helget was born on August 2, 1944 to Arthur Sr. & Louisa (Rothmeier) Helget. He attended and graduated from St. Mary's High School in 1962. After working for a few years milking and farming, he enlisted in the U.S. Army. He served from 1965-1968 with most of his time spent stationed in Germany. On October 10, 1971 he married LaDonna Heiderscheidt at St. Mary's Catholic Church in Sleepy Eye. Together they had two children, Lloyd and Lila. They settled in Stark Township and he farmed until his retirement. Leon was a gifted musician, learning to play the concertina by ear at a young age. He played many weddings and barn dances starting as a teenager. In 1978, he formed The Leon Helget Band. The Dude loved to play his concertina, his sound and style recognizable and like no other. He was inducted into the MN Music Hall of Fame in November of 2016. The Dude worked for 20 plus years at Del Monte, combining pea and corn pack. He was a member of and served as President of the Fraternal Order of Eagles for many years. He was a strong supporter of the Stark Baseball Association serving on the Stark Board and coaching baseball there. He was a member of St. Mary's Church, the VFW and Concertina Club. The Dude's passion was his music and the joy it would bring to others. He also enjoyed playing cards with the "Card Club", farming with his son, hunting, fishing, gardening, working on old John Deere tractors, driving his golf cart around with his dog and granddaughter, and a good BS session.
He is survived by his son, Lloyd, daughter, Lila and granddaughter, Lydia Helget, siblings, Lorraine (Leon) Tauer, Arlis (Rollie) Forstner, Arthur Jr. (Annie) Helget, Ardelle "Honey" Domeier, LuAnn (Fred) Moldan and many nieces and nephews. He was preceded in death by his parents, wife, LaDonna, brother, Luverne "Satch" (Janet) Helget and brothers-in-law, Vincent Domeier, Laverne "Trixie" Heiderscheidt and James Filzen.
Share this article