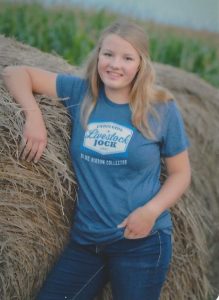 ProAg of Renville County is honored to announce Meghan Beckendorf of Renville as the recipient of the Agriculture Future of America Leader and Academic Scholarship. ProAg raised funds through the Renville County All Ag Celebration that were matched by AFA to award this $4,200 scholarship.
Meghan is, a senior at Renville County West, plans to attend South Dakota State University to study Agriculture Education.
In addition to $3,200 in academic scholarship, Meghan will attend the AFA Leaders Conference November 1-4, 2018 in Kansas City, Missouri. This event is attended by nearly 800 elite agriculture students from across the nation.
AFA partners with businesses and individual donors to provide scholarships and intern opportunities to students who are actively pursuing careers in an agriculture-related industry. It is through partnerships such as these that the needs of youth are met, intern opportunities are created, scholarship dollars are allotted, and leadership skills are enhanced.
AFA, founded in the fall of 1996 by the late R. Crosby Kemper Jr., is headquartered in Kansas City, Missouri. In addition to enhancing the education and leader potential of rural youth in the Midwest region through community-based scholarships, AFA provides leader and career development training and internship assistance to college students across the country.
For more information about AFA, visit www.agfuture.org.
Share this article