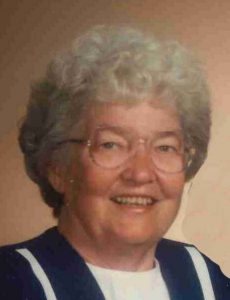 Elaine Rohlik, age 93 of Sanborn, died Sunday, January 28, 2018, at Mayo Clinic Health System in Springfield.

Visitation will be on Tuesday, January 30, 2018 from 4:00 pm to 8:00 pm and will continue on Wednesday from 10:00 am until 11:00 am at the St. Mathias Catholic Church in Wanda.

Mass of Christian Burial will be held at the St. Mathias Catholic Church on Wednesday, January 31, 2018 at 11:00 am.

The clergy will be Father Anthony Hesse.

Interment will be at the St. Mathias Catholic Cemetery in Wanda.

Arrangements are with the Sturm Funeral Home in Springfield.

On line condolences may be left for the family at www.sturmfh.com.

The Tuesday 6:00 p.m. Mass at St. Mathias has been changed to 8:00 a.m.

Elaine (Jenniges) Rohlik was born to John and Caroline (Auderheide) Jenniges on July 12, 1924, in Waterbury Township. She was united in marriage on June 14, 1948, to Richard Rohlik. Prior to their marriage, Elaine taught rural school near Seaforth and Wanda. She was active as a member of the St. Mathias CCW and the St. Elizabeth Court of Catholic Order of Foresters. She taught religious education for many years and also was a substitute teacher at St. Mathias and St. Anne's Catholic Schools. She enjoyed playing cards, sewing, and was kept busy trying to keep the cookies in her freezer safe from her children.

Elaine is survived by her children- Daniel Rohlik of Wanda, Joan (Michael) Sinnwell of Niwot, CO, Barbara (James) Shekleton of New Hampton, IA, Arthur (Dawn) Rohlik of Wanda, Patrick (Julie) Rohlik of Wanda, Dennis Rohlik of Wanda, Rita Rohlik of New Ulm, Carolyn Klann of Wanda, and Marianne (James) Stoutland of Marshall; 21 grandchildren; 7 great-grandchildren; sister Jean (Bill) Deutsch of Ellsworth; and sister-in-law Mary Jenniges. She is preceded in death by her parents; husband Richard in 2011; son Joseph; son-in-law Joseph Klann; brothers- Vincent, Wilfred, Clare, Austin, Leonard, and Valentine; and sisters- Gertrude and Bertha.
Share this article