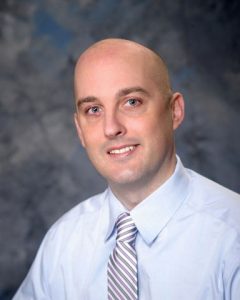 I have been with KLGR since 2016 and enjoy the privilege of being able to get to know our local businesses. Getting the opportunity to work as a team to meet their marketing and operational goals.
I believe local radio, especially in smaller populations like Redwood Falls, plays a significant role in the community. It is our main source for breaking news, weather, entertainment, music, local sports and much more. Working with all of our staff to provide and improve all of our "Live and Local" content.
My wife, Stephanie, is a high school graduate of Redwood Valley and we have two children, Maisy and Decker, and our golden retriever Norm (we are both fans of the television show Cheers). We enjoy being outside as much as possible, working towards running half marathons, and getting as much golf and other activities in as possible and traveling.
Prior to moving to Redwood Falls, I spent the previous five years as an assistant director of communications at the University of North Dakota. I also served as a public relations intern with the National Football League's Minnesota Vikings from 2005-08 and each season during training camp and after high school spent a few years as a sports journalist for the Marshall Independent.
A native of Marshall, Minn., I received a bachelor's degree in mass communications and public relations with a marketing minor from Minnesota State in 2007. I also served eight years in the ARMY National Guard.
Share this article