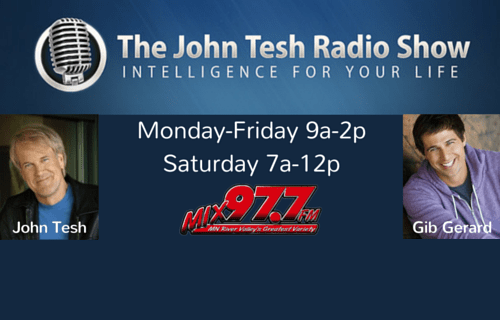 The John Tesh Radio Show
Check out the Intelligence For Your Life video player and explore more IFYL topics!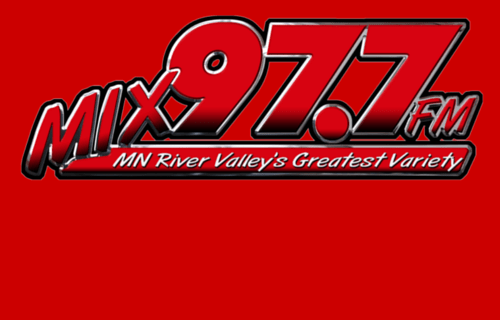 The Minnesota River Valley's Greatest Variety
Mix 97.7 plays rock and pop favorites of the past 45 years. You'll hear the most music all day, including 30 minutes commercial-free every hour. We'll still keep you up-to-date with concise news, weather, farm reports, and sports, including area high school sports.
Programming Schedule

Monday-Friday | Saturday | Sunday
Monday-Friday
| AM | | PM | |
| --- | --- | --- | --- |
| 6:00-9:00 | The Daily Grind with Dustin & Justin | 12:00 | Local News |
| 6:05 | 97-Second Information Update | 12:15 | Weather |
| 6:15 | Weather | 12:42 | Community Calendar |
| 6:31 | 97-Second Information Update | 12:45 | Weather |
| 6:45 | Weather | 1:00 | MNN News |
| 6:47 | Sports | 1:15 | Weather |
| 7:01 | News | 1:42 | TFN Market Update |
| 7:10 | Recycling Schedule | 1:45 | Weather |
| 7:12 | Birthday Bash | 2:00 | MNN News |
| 7:15 | Weather | 2:15 | Weather |
| 7:31 | 97-Second Information Update | 2:42 | TFN Market Close |
| 7:45 | Weather | 2:45 | Weather |
| 7:47 | Sports | 3:00 | MNN News |
| 8:01 | News | 3:15 | Weather |
| 8:10 | Good News | 3:45 | Weather |
| 8:15 | Weather | | |
| 8:31 | 97-Second Information Update | 4:00 | MNN News |
| 8:42 | Community Calendar | 4:12 | John Tesh Intelligence Minute |
| 8:45 | Weather | 4:15 | Weather |
| 9:00-2:00 | The John Tesh Radio Show | 4:42 | Stock Market Update |
| 9:00 | MNN News | 4:45 | Weather |
| 9:15 | Weather | 4:47 | Sports |
| 9:42 | TFN Market Open | 5:00 | Local News |
| 9:45 | Weather | 5:15 | Weather |
| 10:00 | MNN News | 5:42 | Community Calendar |
| 10:15 | Weather | 5:45 | Weather |
| 10:42 | TFN Market Watch | 6:00 | Local News |
| 10:45 | Weather | 6:15 | Weather |
| 11:00 | MNN News | 6:45 | Weather |
| 11:15 | Weather | 7:15 | Weather |
| 11:42 | TFN Market Update | 7:45 | Weather |
| 11:45 | Weather | 8:15 | Weather |
| 11:47 | Sports | 8:45 | Weather |
| | | 9:15 | Weather |
| | | 9:45 | Weather |
| | | 10:15 | Weather |
| | | 10:45 | Weather |
| | | Overnight | |
| | | :15 | Weather |
| | | :45 | Weather |
| | | | |
Monday-Friday | Saturday | Sunday
Saturday
| AM | | PM | |
| --- | --- | --- | --- |
| 6:00 | MNN News | 12:00 | Local News |
| 6:15 | Weather | 12:15 | Weather |
| 6:16-6:46 | Minnesota Matters | 12:42 | Community Calendar |
| 6:48 | Weather | 12:45 | Weather |
| 7:00-12:00 | Best of The John Tesh Radio Show | 1:15 | Weather |
| 7:00 | Local News | 1:45 | Weather |
| 7:06 | Sports | 2:15 | Weather |
| 7:12 | Birthday Bash | 2:45 | Weather |
| 7:15 | Weather | 3:15 | Weather |
| 7:45 | Weather | 3:45 | Weather |
| 8:00 | Local News | 4:15 | Weather |
| 8:07 | Sports | 4:45 | Weather |
| 8:15 | Weather | 5:00 | Local News |
| 8:42 | Community Calendar | 5:15 | Weather |
| 8:45 | Weather | 5:42 | Community Calendar |
| 9:00 | MNN News | 5:45 | Weather |
| 9:15 | Weather | 6:00 | Local News |
| 9:45 | Weather | 6:15 | Weather |
| 10:00 | MNN News | 6:45 | Weather |
| 10:15 | Weather | 7:15 | Weather |
| 10:45 | Weather | 7:45 | Weather |
| 11:00 | MNN News | 8:15 | Weather |
| 11:15 | Weather | 8:45 | Weather |
| 11:45 | Weather | 9:15 | Weather |
| 11:47 | Sports | 9:45 | Weather |
| | | 10:15 | Weather |
| | | 10:45 | Weather |
| | | Overnight | |
| | | :15 | Weather |
| | | :45 | Weather |
| | | | |
Monday-Friday | Saturday | Sunday
Sunday
| AM | | PM | |
| --- | --- | --- | --- |
| 6:15 | Weather | 12:00 | Local News |
| 6:45 | Weather | 12:15 | Weather |
| 7:00 | Local News | 12:42 | Community Calendar |
| 7:06 | Sports | 12:45 | Weather |
| 7:12 | Birthday Bash | 1:15 | Weather |
| 7:15 | Weather | 1:45 | Weather |
| 7:30-8:00 | The Cornerstone Connection | 2:15 | Weather |
| 8:00-9:00 | St. John's Lutheran Church | 2:45 | Weather |
| 9:00 | Local News | 3:15 | Weather |
| 9:07 | Local Sports | 3:45 | Weather |
| 9:10-9:30 | Living Word Church | 4:15 | Weather |
| 9:45 | Weather | 4:45 | Weather |
| 10:00-11:00 | Gloria Dei Lutheran Church | 5:00 | Local News |
| 11:15 | Weather | 5:15 | Weather |
| 11:45 | Weather | 5:42 | Community Calendar |
| 11:47 | Sports | 5:45 | Weather |
| | | 6:00 | Local News |
| Summer | Schedule Changes | 6:15 | Weather |
| 9:00-10:00 | Gloria Dei Lutheran Church | 6:45 | Weather |
| 10:09 | Weather | 7:00-9:00 | Retro Stars 80s with Dave Stewart |
| 10:10-10:30 | Living Word Church | 7:16 | Weather |
| 10:45 | Weather | 7:51 | Weather |
| | | 8:10 | Weather |
| | | 8:46 | Weather |
| | | 9:00-11:00 | Retro Stars 90s with Dave Stewart |
| | | 9:16 | Weather |
| | | 9:51 | Weather |
| | | 10:10 | Weather |
| | | 10:46 | Weather |
| | | Overnight | |
| | | :15 | Weather |
| | | :45 | Weather |
| | | | |