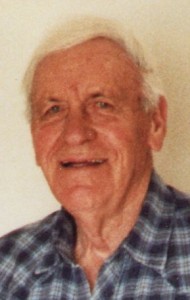 Charles Trapp, age 83 of Blomkest passed away peacefully in his sleep surrounded by his family Saturday, December 31, 2016 at his home. Mass of Christian Burial is Thursday, January 5th at  10:00 a.m. at St. Aloysius Catholic Church in Olivia with Rev. Dennis Labat as celebrant. Burial is in the church cemetery. Visitation is Thursday at the church from 8:30 to 10:00 a.m. Arrangements are with Dirks-Blem Funeral Service of Olivia.
Charles David Trapp was born January 13, 1933, the youngest of the seven children of Reinhold and Lucy (Sprink) Trapp.  "Charlie" grew up on the family farm north of Danube and later moved north of Olivia. He graduated from Olivia High School in 1950. On May 19, 1957 he was united in marriage to Rita Marie Fox and to this union seven children were born. They made their home on the family farm near Blomkest. Charlie farmed most of his life and worked several jobs including at Harry's Corner Truck Stop, Erickson Hardware, and Southern Minnesota Beet Sugar Cooperative. He spent his retirement years at home on the farm. Charlie liked to garden and watch things grow, visit and be visited by family and friends.
Charlie is survived by his wife Rita of Blomkest; his children: David (and Jan) of Kandiyohi, Theresa of Verona, NJ, Kevin (and Karen) of Willmar, Steven of Grove City, Debra of Little Falls, Jeff of St. Cloud, Laura (and Jason Pierskalla) of St. Cloud; his sister Herma Hoffman of Renville; his five grandchildren: Nathan and Nicolas Trapp; and Madison, Mckenzie, and Tristan Pierskalla; his two step-grandchildren: Vicki (and Bill) Baxendale and Susan (and Skip) Fjerstad; his three step-great-grandchildren: Connor Baxendale, Katelyn Fjerstad, and Jack Fjerstad; and many nieces and nephews. Charlie was preceded in death by his parents; his brother Rudolph "Rudy" Trapp; his sisters: Marion Ferguson, Margaret Hoffmann, Delores Binger, Martha Clubb, and Rhoda DeRuyter/Kotten.
Blessed Be His Memory