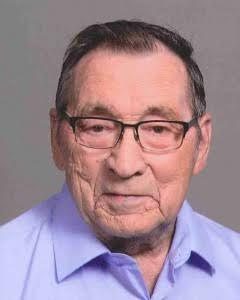 Gerald "Jerry" Kirtz, age 90, of Hector, passed away Sunday, November 18, 2018, at his home.
Mass of Christian Burial will be held Wednesday, November 21, 2018, at 11:00 A.M. at St. John's Catholic Church in Hector, with interment the church cemetery.
Military Honors will be provided by the Carl O. Potter American Legion Post 135 of Hector.
Visitation will be held Tuesday, November 20, 2018, from 4:00 – 7:00 P.M. at the Hughes-Hantge Funeral Chapel in Hector, and will continue on Wednesday at St. John's Catholic Church at 10:00 A.M., for one hour prior to the service.
Gerald Anthony Kirtz was born on August 1, 1928, in Wabasso, Minnesota, the son of Frederick and Sadie (Fortney) Kirtz. He was baptized on August 5, 1928 in the Church of St. Anne in Wabasso, and confirmed in his Catholic Faith.  Gerald grew up in Hector and received his education at the Hector Public School. Gerald enlisted with the United States Army on January 16, 1951, and was based at Camp Rucker in Alabama. He was honorably discharged on February 26, 1952.
On June 10, 1961, Gerald was united in marriage to RoseMary Billmeier at the Church of St. Michael's in Morgan, Minnesota. To this union four children were born, Ann Marie, Patricia, Douglas, and Dennis. They were blessed with 57 years of marriage.
Gerald and RoseMary farmed near Hector for 45 years, and retired in 1999. They moved into their home in Hector in 2001. In retirement Jerry continued to help on the farm while pursuing his woodworking hobby. For 20 years Jerry built cedar chests and dressers for the Lions Raffle during Corn Chaff days. He built new sanctuary furniture for St. John's Catholic Church and numerous items for family and friends. Gerald was a faithful member of St. John's where he served on numerous committees and boards. In 1996, he was awarded the Bishop's Service Award. For many years, Jerry was the sexton of St. John's Catholic Cemetery, and also mowed the church and cemetery lawns. Jerry was a member of the Knights of Columbus. In 2012, Gerald was named the Outstanding Citizen of the Year for Hector. For the past 60+ years, Jerry has been a member of the Carl O. Potter American Legion Post 135 of Hector.
Gerald was a loving husband, father, grandfather, and great-grandfather. He loved spending time with his family.
On Sunday, November 18, 2018, Gerald passed away peacefully at his home surrounded by his family. He had reached the age of 90 years. Blessed be his memory.
Gerald is survived by his: Wife: RoseMary Kirtz of Hector; Children: Ann Marie (Tom) Eckberg of Gaylord, Patricia ( Kelly) Heitkamp of Janesville, Douglas (Lorie) Kirtz of Hector, Dennis (Cary) Kirtz of Hector; Grandchildren: Maxwell (Ashley) Eckberg, Megan (Fiancée Lukas Bullert) Eckberg, Spencer Heitkamp, Erin Heitkamp, Seth Kirtz, Eli Kirtz, Sadie Kirtz, Philip Kirtz, Leah Kirtz; Stepgrandchildren: Joel (Katie) Eckberg, Jessica (Rick) Linde; Great-Granddaughter, Ava Grace Eckberg; Brother, Father Ray Kirtz, OMI. of Buffalo; many nieces, nephews, and other relatives, and friends.
He was preceded in death by his: Parents; Brothers and their Wives: Dormand (Edna) Kirtz, Alvin (Mary) Kirtz, Robert Kirtz, Delmar Kirtz, and Russel Kirtz; Sister and her Husband, Helen (Byron) Phenicie.
Arrangements with Hughes-Hantge Funeral Chapel in Hector. www.hantge.com
Share this article