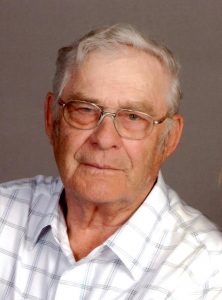 Francis J. Serbus, age 79, of Danube, died Monday, October 8, 2018, at his home south of Danube.  Mass of Christian Burial will be 10:30 a.m. Friday, October 12, 2018, at Holy Redeemer Catholic Church in Renville.  The Rev. Joseph Steinbeisser will be the celebrant.  Burial will be in St. Mary's Catholic Cemetery in Bechyn.  Visitation will be on Thursday from 5-7 p.m. and will continue on Friday one hour prior to the Mass all at the church in Renville.  Arrangement are with Dirks-Blem Funeral Home, Renville, MN.
Francis J. Serbus was born on October 25, 1938, on the family farm in Flora Township in Renville County to John and Mary (Hosek) Serbus.  He was baptized, made his first communion, confirmed, and served as a alter boy all at St. Mary's Catholic Church in Bechyn.  He went to country school near his home at District 12 and later went to Danube High School, graduating in 1957.  He served his country in the National Guard for 8 years, serving from Willmar, Olivia, and finally Redwood Falls.  He loved the land and the outdoors, and enjoyed hunting and fishing.  He was a lifelong farmer and was most proud of his crops, never a weed in his field.  He also loved to garden and watch things grow, enjoyed watching birds, never a squirrel in his feeders.  He was united in marriage to Patricia Hirman on June 9, 1962, at St. Mary's Catholic Church in Bechyn.  They were blessed with six children. He was a member of Holy Redeemer Catholic Church.  He was a Knight of Columbus member, first in Redwood Falls where he served as Grand Knight for four years, and later belonged to the Renville Knight of Columbus.  He was a member of the Danube American Legion and was very proud of his service, he never missed a Memorial Day Service. He loved polka music and loved to dance-until his legs gave away.  Loved a good card game of Snozzle, and loved card parties.  He also enjoyed word find books.  He was an active blood donor and was proud of the 18 gallons he had given. He always loved teasing his grandchildren and great grandchildren.  He loved to collect coins and had to get all the state quarters when they came out, and enjoyed finding a wheat penny or anything different he would also keep.  He also enjoyed helping with Czech Fest in Bechyn and never missed a chance to tell of his Czech heritage.
Survivors include his wife Pat, his daughters and son:  Kathern (and Seth) Johns of Willmar, Linda (and Douglas) Ablard of Milaca, Cheryl (and Darrel) Hanson of Sacred Heart, and Robert (and Nanette) Serbus of Renville; his five grandchildren:  Mike and Dan Ablard, Theresa (and Tyler) Andrews, Andrew Hanson, and Nicholas Serbus; his two great granddaughters: Sarina Ablard and Paige Andrews; his brother Joe (and Gloria) Serbus of Milaca, and his sister Veronica (and Don) Frank of Redwood Falls; many nieces, nephews, and other relatives and friends.  He was preceded in death by his parents, his two sons, Leonard and Curtis, and his brothers and sisters:  Clarence, Harry, Gilbert, Mildred, Mary Ann, Barbara Jean, and John.
Blessed Be His Memory
Dirks-Blem Funeral Service, Renville, MN
320-329-3555   www.dirksblem.com
Share this article