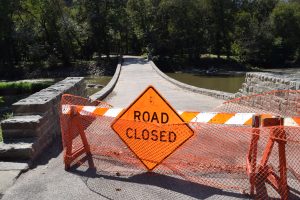 If things go well, Ramsey Park in Redwood Falls could be open for traffic again by Oct. 1.
The park road was closed for vehicular traffic last spring after flooding overwhelmed the swayback bridge and the low-lying area near Ramsey Creek.
State crews examined the bridges Tuesday, and preliminary results indicated both bridges are structurally sound. Both bridges need only minor work to get them back to normal appearance, and have been cleared for vehicles to drive on them again.
However, driving through the park from end-to-end is still impractical. The pavement by the Ramsey Creek bridge buckled in the spring floodings, and the road remains undrivable for the moment.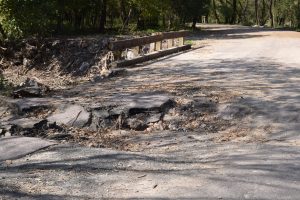 Redwood Falls City Administrator Keith Muetzel said Wednesday the city has contracted with TNT Construction of Morgan to fix the damaged pavement and foundations. Depending on weather, work is expected to begin Monday, Sept. 17, with the goal of the park being reopened for traffic on Oct. 1.
Share this article