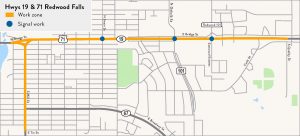 WILLMAR, Minn. – The Highways 19 and 71 project in Redwood Falls is scheduled to begin Monday, July 16, 2018.  There are several components to this project:
·         MnDOT will construct a continuous two-way left turn lane from Cook Street to Patton Street.
·         A new traffic signal will be installed at the intersection of County Road 101.
·         Traffic signals at Swain Street and Dekalb Street will be replaced.
·         Pedestrian ramps, sidewalks and driveways will be upgraded from West 11th Street to Highway 71 to meet current Americans with Disabilities (ADA) standards.
·         Pedestrian ramps, sidewalks and driveways will be upgraded from just west of South Minnesota Street to Patton Street.
Work is starting at the north side of Highway 71 with ADA upgrades.  Currently, there is no impact to traffic.  The total project area is 2.2 miles in length.  The project is estimated to cost $3.6 million and is expected to be complete by late September.  Duininck, Inc., is the contractor for the project.
The benefits of the project include enhanced safety at intersections, improved drainage, and compliance with ADA standards.
MnDOT asks motorists to slow down and pay attention while driving through work zones.  Remember, orange cones, no phones.  Motorists who speed through a work zone or who disobey work zone flaggers face a $300 fine.
For more information on the project visit the project webpage at www.mndot.gov/d8/projects.
Share this article