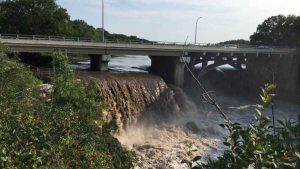 Earlier this week the City of Redwood Falls had put out a request for residents to give them information about flooded basements and buildings. The information will be used by Redwood County Emergency Management, FEMA and Homeland Security Emergency Management to assist in providing financial aid residents with basement/building flooding.
Now Redwood County has declared a state of emergency, and also made a request for information about flooded basements and buildings. Jim Sandgren, of Redwood County Emergency Management, said the county is gathering information on homes affected with any uninsured flooding, sewage backup and any damage that may have occurred during this past Tuesday's storm.  People should contact their township clerk or city office to report these issues.
Lieutenant Governor Michelle Fischbach, touring southwest Minnesota Tuesday, told KLGR News that it's important for residents to keep their town, county, or township leaders informed about flood damage. She said:
Fischbach said once the authorities have the needed information, they can better make use of the funding available:
Information from across the county will be compiled and forwarded to the state of Minnesota to see if Redwood County reaches the threshold for an Individual Assistance Declaration.  At this time, there is no individual assistance declaration, but Redwood County and the state of Minnesota Department of Homeland Security are trying to secure one.
Share this article