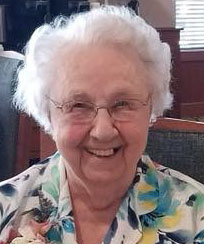 Deloris Abraham, age 100, of Olivia died Tuesday, June 12, in Savage. Funeral services will be Friday, June 15th at 1:00 p.m. at Cross Of Calvary Lutheran Church in Olivia with Rev. Matt Hausken officiating. Burial will be in the Olivia Cemetery. Visitation for Deloris is Friday at the church from 11:30 a.m. to 1:00 p.m.  Arrangements are by Dirks-Blem Funeral Service, Olivia.
Deloris Luella Abraham was born April 23, 1918, on a farm northwest of Olivia to Fred and Kathryne (Zobel) Lindquist. Deloris attended country school and later worked as a dental assistant in Olivia. While working there, she met her patient Lyndon Abraham. Deloris and Lyndon were married at Deloris's home in Olivia on December 14, 1945. To this union two sons were born, Paul and Gerald, and a daughter Judy who died at birth. Deloris and Lyndon farmed the Abraham family farm southwest of Olivia until they retired and moved into Olivia in 1994. Deloris and Lyndon were involved in many church activities, first at the Emmanuel Evangelical United Brethren church and then at Cross of Calvary Lutheran church, both in Olivia. Together they contributed many hours to the community through meals-on-wheels and other services. Deloris was an accomplished seamstress and quilter. She donated quilts to local charitable organizations for fund-raising events. Her quilts usually generated high prices at these events and she won a best-in-show awards for her work. She was also a great cook and contributed many hours in the kitchens for countless church events. Her home-baked bread and bun entries at the Renville County Fair were ribbon winners. In December of 2010 Deloris and Lyndon moved to Parkview Village in Olivia and she resided there after Lyndon passed away. Deloris moved to Cherrywood Pointe of Savage in March 2016 to be close to her sons and daughters-in-law and her grandchildren and great grandchildren.
Deloris is survived by her two sons: Paul (and Joy) Abraham of Bloomington and Gerald (and Jan) Abraham of Apple Valley; her two grandsons: Thomas (and Camila) Abraham of Savage, and Daniel Abraham of Rosemount; her great-grandson Nicholas Abraham, great-granddaughter Christina Abraham; her sister: Alice Decker of New Ulm, MN; brother-in-law Lee Folkerts of Olivia; sister-in-law Myra Lindquist of Willmar; and nineteen nieces and nephews. Deloris is preceded in death by her husband of 68 years, Lyndon; her parents; her sister and brother-in-law Hazel and Lee Hanson, sister and brother-in-law Myrtle and Ted Kemnitz, sister and brother-in-law Florence and Adrian Shanahan, sister Lorraine Folkerts, brother and sister-in-law Orville and Dorothy Lindquist, brother and sister-in-law Marvin and Elizabeth Lindquist, brother Ervin Lindquist, and brother and sister-in-law Wallace and Idamae Lindquist; brother-in-law Jack Decker; and five nieces and nephews.
Blessed Be Her Memory
Share this article