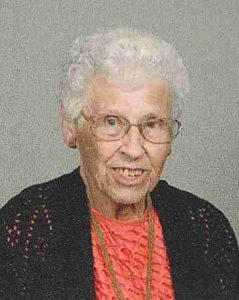 Mary Lavon Rue age 92, of Lamberton, MN died on June 5, 2018, at Mayo Clinic Health System in Springfield, MN.
Visitation will be on Thursday, June 7, 2018, from 4:00 pm to 7:00 pm at the Sturm Funeral Home, Lamberton Chapel and will continue on Friday from 9:30 am until 10:30 am at the Our Savior's Lutheran Church in Lamberton, MN.
Service will be held at the Our Savior's Lutheran Church on Friday at 10:30 am.
The clergy will be Pastor Mark Jamison. Interment will be at the Lamberton Cemetery.
Arrangements are with the Sturm Funeral Home in Lamberton, MN. On line condolences may be left for the family at www.sturmfh.com.
Mary Lavon (Warren) Rue was born on February 26, 1926 to Laurence and Mabel Warren at her aunt Ida's house in Estherville, IA. She grew up in Lamberton, MN and graduated from Lamberton High School in 1944. On November 13, 1944, Mary was united in marriage to Glenn Rue who left for army duty the following day. She worked at the Gamble's Store in Lamberton, in Redwood Falls at Controlled Data, and as the Postal Clerk at the Lamberton Post Office for 25 years. Mary was a member of the historical society, legion auxiliary, and Our Saviors Lutheran Church in Lamberton. She enjoyed playing 500, dancing, traveling, reading, and sewing. Her passion for her flower gardens were shared with others for their special occasions. Mary loved spending time with her family, especially her grandchildren and great grandchildren.
She is survived by her children – David (Nancy) Rue of Lamberton, Donald Rue of Denver, CO, Myron (Judy) Rue of Sturgis, SD, Wayne Rue of Lamberton, Steven (Paula) Rue of Owatonna, MN, Gayle (Edwin) Erickson of Lamberton, Denise (Jim) Beyers of Pipestone, MN, and Keith (Julie) Rue of Sioux Falls, SD; 22 grandchildren and 40 great grandchildren. Mary was preceded in death by her parents; husband Glenn in 2011; son Brian Rue; and half-brother Earl Ketchler.
Share this article