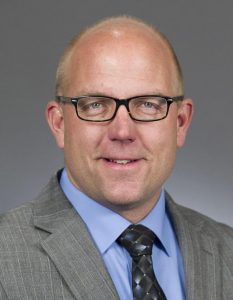 Representative Tim Miller is sponsoring anti abortion legislation.
The Prinsburg Republican says he's following the lead of a neighboring state that has chosen to prioritize the right to life in writing a bill that would prohibit an abortion in Minnesota when a fetal heartbeat is detected. Miller says he knows it's too late for any bill this session, which has only a few days left, but it's for the next session when a new governor will have replaced Mark Dayton.
Miller says "As a strong right-to-life supporter, this is a topic I've been working on for two years, but questions over a potential court challenge slowed our progress. Recently lawmakers in Iowa had the courage to pass a fetal heartbeat bill into law, and I have taken their language and adapted it so the proposal can work in Minnesota."
Miller's bill says except in the case of a medical emergency, a physician must first test a pregnant woman with an abdominal ultrasound to determine if a fetal heartbeat is detectable in her unborn child before performing an abortion. Unless there is a medical emergency, a physician would not be able to perform an abortion if a fetal heart beat is found.
Violators could face up to a year in jail, up to a $3,000 fine, or both.
Share this article