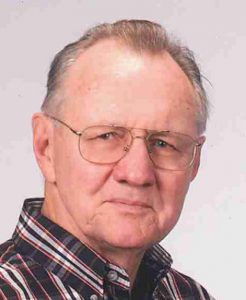 Kenneth Streich, age 79 of Sleepy Eye, died Saturday, April 7, 2018, at Hillcrest Rehabilitaion Center in Mankato, Minnesota.
Visitation will be on Friday, April 13, 2018 from 4:00 pm to 7:00 pm and will continue on Saturday from 9:30 am until 10:30 am at the Sturm Funeral Home in Sleepy Eye.
Service will be held at the Sturm Funeral Home in Sleepy Eye on Saturday, April 14, 2018 at 10:30 am.
The clergy will be Pastor Grant Fischer.
Interment will be at the Home Cemetery in Sleepy Eye.
Military Honors by the Sleepy Eye Honor Guard.
Arrangements are with the Sturm Funeral Home in Sleepy Eye.
On line condolences may be left for the family at www.sturmfh.com.
Kenneth George Streich was born on November 25, 1938 in Comfrey, MN to Raymond & Julia (Groebner) Streich. He served in the U.S. Army from 1963-1965. On July 11, 1968, Kenny married June Wegner. They were looking forward to celebrating their 50th anniversary this summer. He farmed with his dad for 18 years. Kenny, along with his dad and brother Cliffy, ran a repair shop in Clements and later in Cobden. He owned and operated Streich's Bar for 13 years. Before retiring in 2008 he was a truck driver for Christensen Farms and Schwartz Farms. Kenny loved old time music playing guitar at age 13 with his brother Cliffy on the concertina. He enjoyed riding his Harley motorcycle, camping, snowmobiling and loved his dogs. Kenny was quite the storyteller. He enjoyed playing Crazy 8's with good friends Louie and Brenda Forbrook. Most of all he cherished the time he spent with his grandchildren. He loved his family and was very proud of them.
Kenneth Streich died Saturday, April 7, 2018, at Hillcrest Rehabiltation in Mankato at the age of 79.
He is survived by his wife June of Sleepy Eye and was blessed with son Quinten and daughter-in-law Donna along with granchildren Cody, Courtney and Casey of Staesville, NC. Also surviving are sisters-in-law- Jeanette (Michael) Crouch, and Lauraine (Stan) Sowers of Sleepy Eye; brother-in-law James Wegner of Evan; and also many nieces, nephews, cousins and friends. He was preceded in death by his parents and brother, Clifford and Shirley Streich.
Share this article