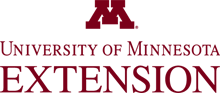 The Women in Ag Network will host its Spring Workshop, All About Pollinators, on April 6 in Sauk Centre. This fun, networking and learning event will focus on celebrating Minnesota's pollinators and the start of spring.
Our program will feature the University of Minnesota's Bee Squad, Extension Educators, and a panel of female farmers that participate in multi-generational farms. Beginning with registration
at 10:45 am, the program will be from 11 am to 2 pm at Tutti Fruitti Kitchen & Market Farm (38914 Co. Rd. 186; Sauk Centre, MN 56378). Thanks to the generous sponsorship of Compeer
Financial and AgCountry FCS this event, including lunch, is free. Pre-registration is required at z.umn.edu/WAGN-Pollinators and is requested by March 30.
"Honey bees are the most widely recognized and emphasized pollinator, said Sarah Schieck, Extension Educator. "The workshop with feature Rebecca Masterman from the University of Minnesota Bee Squad, speaking about the work they are doing with pollinators and their intersection with agriculture. We will also have an Extension educator speak about pollinator protection and regulation, covering application considerations, EPA mitigation, MDA compensation and the Driftwatch program. Some of the female farmers on our panel, not only farm, but are also beekeepers. This workshop should be a fun filled day as we learn All About Pollinators."
Learn more about the Women in Ag Network at z.umn.edu/WAGN. For more information about this event, contact Megan Roberts (MeganR@umn.edu) or Sarah Schieck (schi0466@umn.edu).
Share this article