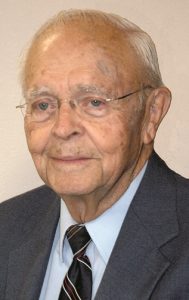 James J. Broich age 90, of Sleepy Eye, MN died on March 11, 2018, at the Countryside apartments in Sleepy Eye.
Visitation will be on Wednesday from 4 to 7 pm and will continue on Thursday from 7:30 until 10 am at the Sturm Funeral Home, Sleepy Eye.
Mass of Christian Burial will be held at the St. Mary's Catholic Church, Sleepy Eye, on Thursday, March 15, 2018 at 10:30 am.
The clergy will be Msgr. Eugene Lozinski.
Interment will be at the St. Mary's Catholic Cemetery with Military Rites by the Sleepy Eye Honor Guard.
Arrangements are with the Sturm Funeral Home in Sleepy Eye.
On line condolences may be left for the family at www.sturmfh.com.
The family would like memorial contributions to go to; The Sleepy Eye Care Center, Countryside Retirement Community or the Sleepy Eye Medical Center.
James John "Jim" Broich was born on July 29,1927 in Adrian MN to John and Mary (Kaschmitter) Broich. He moved to Sleepy Eye in 1937 and worked at his father's grocery store while attending St. Mary's school. In 1945 he entered the U.S. Navy where he served as a deep sea diver and a GM 2 class. He served aboard the USS Penguin & USS Petrel and was a helmsman when at sea. Upon his honorable discharge in 1949 he opened a sewing machine sales and repair shop in Sleepy Eye. He married Mary Ann Kuelbs in 1950 and they had 2 children, Jeanne and Robert. In 1951 he moved to Jackson, MN and was a partner in a grocery store with his brother Walter. Jim moved back to Sleepy Eye in 1953 and worked for Minnegasco. In 1955 he built, owned and operated the Dairy Queen Store. In 1962 he went in to the insurance business as an agent with his brother Joe. He also sold real estate and securities. He also worked part time in the Post Office and retired from his position in 1981. In 1986 he was elected to the city council and was elected mayor in 1992 and served as mayor until 2016. As an avid promoter of the city of Sleepy Eye he gave away thousands of souvenirs of the city at parades. He was very proud of the projects completed during his tenure as mayor and loved serving the city of Sleepy Eye. He also served on the board of Minnesota River Area on Aging and a term as Chair & Vice Chair. In addition, he served on MNDOT District 7, ATP, as vice chair and Region 9 Revolving Loan Committee. He served as a Volunteer Fire Fighter for 34 years and 9 years as EMT on ambulance duty as well as the South Central EMS board. Jim enjoyed fishing, hunting, gardening, wine making, bee keeping and craft shows. He was active in the Lions Club, Legion, Disabled Veterans and the Sleepy Eye Collectors Club. His interests also included being a Ham Radio operator in the 1960's and in his spare time owning and remodeling several houses.
Jim is survived by his wife of 67 years, Mary Ann Broich; daughter Jeanne (Dave) Wass of Essig; son Robert (Annette) Broich of Plymouth; brother John Jr. of Bristol,TN and sister Audrey of New Ulm; grandchildren, Matt Wass, Amanda Horkey (Matt), Kristen Kulkay (Jake), Tom Broich and great-grandchildren Dylan Rubey, Tyson Horkey and Abby Kulkay. He was preceded in death by parents, John & Mary Broich; brothers Chris, Art, Walt, Joseph, Francis and Alfred.
Share this article