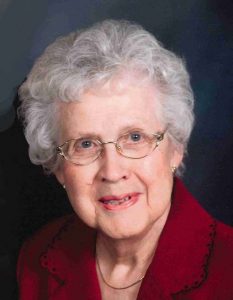 June A. Grundmeyer age 88, of Sleepy Eye, MN died on March 11, 2018, at Sleepy Eye Care Center.
Visitation will be on Saturday from 9 to 10:30 am at the church.
Service will be held at the St. John's Evangelical Lutheran Church, Sleepy Eye, on Saturday, March 17, 2018 at 10:30 am.
The clergy will be Pastor Chris Cordes.
Interment will be at the Home Cemetery in Sleepy Eye.
Arrangements are with the Sturm Funeral Home in Sleepy Eye.
On line condolences may be left for the family at www.sturmfh.com.
June was born on June 24, 1929 in Gales Township, Redwood County, MN the daughter of Elmer and Hilda (Kohlhof) Miller. She graduated from Milroy Public High School in 1947. June extended her education to obtain a teaching certificate from Normal School in Lamberton, Minnesota. She taught at a country school for several years near Sleepy Eye, then married Armin Grundmeyer on June 28, 1951 at St. John's Lutheran Church in Sleepy Eye. They resided on a farm in Iberia where she helped to perform many farm tasks, tended a large garden, and also was a mother to their three children, Peggy, John and Paula. She participated in an Extension Group, Lucky Ladies Bowling League, and the VFW Ladies Auxiliary including service as a past president. She was a member of St. John's Lutheran Church and was active in the Ladies Aid and P.T.O., serving in various positions. She also worked part time at Sleepy Eye Chiropractic as an assistant. She enjoyed playing cards with friends, fishing, spending winters in Arizona, and going out for coffee. Some favorite events in her life included traveling to Alaska in their motor home, going to Washington DC on a Veteran's tour, and spending time playing shuffleboard and enjoying time with many old and new friends each winter in Arizona for about 15 years after retirement. Special enjoyment came from watching her 5 grand-daughters grow up, and also becoming a great-grandmother to 12.
Survived by: Daughters Peggy Johnson, (special friend Bill Parenteau), Naples, FL; and Paula (Steve) Windschitl, Sleepy Eye. Grand-daughters: Kris Johnson of St. Michael, MN; Kim McIntosh (Dan) of Wayzata, MN; Sara (Tony) McKey, Kennesaw, GA; Jill (Joel) Russow, Tallahasee, FL; and Beth (Zach) Shiels, Waukesha, WI. Great-grandchildren: Jaxon Johnson Meyers, Millie Lawton, Audrey and Claire McKey, Jude, Eli, Rachel and Isaiah Russow; and Eliza, Quinn, Hadley and Lucas Shiels. She was preceded in death by: husband, Armin; parents Elmer and Hilda Miller; son, John; siblings Delbert and Bernice; brothers and sister-in-laws Marjorie Miller, Jim Bradley, Raymond and LaMyra Grundmeyer and Alfred and Jean Grundmeyer.
Share this article