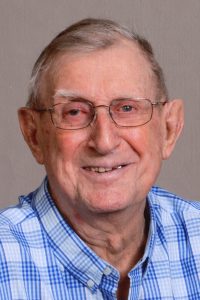 Donald Harrier, age 93, of Olivia died Wednesday, March 7, 2018 at RC Hospital in Olivia.  Mass of Christian Burial is Monday, March 12th at 10:30 a.m. at St. Aloysius Catholic Church in Olivia with Rev. Dennis Labat as celebrant.  Burial is in the church cemetery.  Visitation is on Sunday from 4-6 p.m. at Dirks-Blem Funeral Home in Olivia and continues at the church on Monday for one hour prior to the service.  Memorials are preferred.
Donald Edward Harrier was born September 11, 1924 in Olivia, MN to Walter and Frances (Cuta) Harrier.  He grew up on the family farm north of Danube and attended country school.  Don worked for area farmers and did road construction in earlier years. He then worked as custodian at Olivia High School for over 30 years.   Donald married Suzanne Jansen on September 28, 1948 and they were blessed with three children.  He enjoyed wood working, baking pies, watching sports, gardening, being outside and watching grandchildren's sporting events.  He would always think about how to create or invent something new that he could use around the house.
Don is survived by his three children: Steve (and Kathy) Harrier of DeForest, WI, Kim (and Lynn) Harrier of Olivia and Colleen (and Danny) Thorpe of Willmar; his five grandchildren: Dan (and Megan) Harrier of DeForest, WI, Derek (and Kelly) Harrier of Olivia, Mindy (and Sergio) Sulier of Sartell, Leah Scott(and special friend Shuad Mason) of Benson and Kristina (and Tom) Walker of Raymond; his 16 great-grandchildren and his sister Mary Ann Lippert of Olivia.   Don was preceded in death by his parents, his wife Suzanne in 2005 and his three brothers and one sister.
Blessed Be His Memory
Share this article