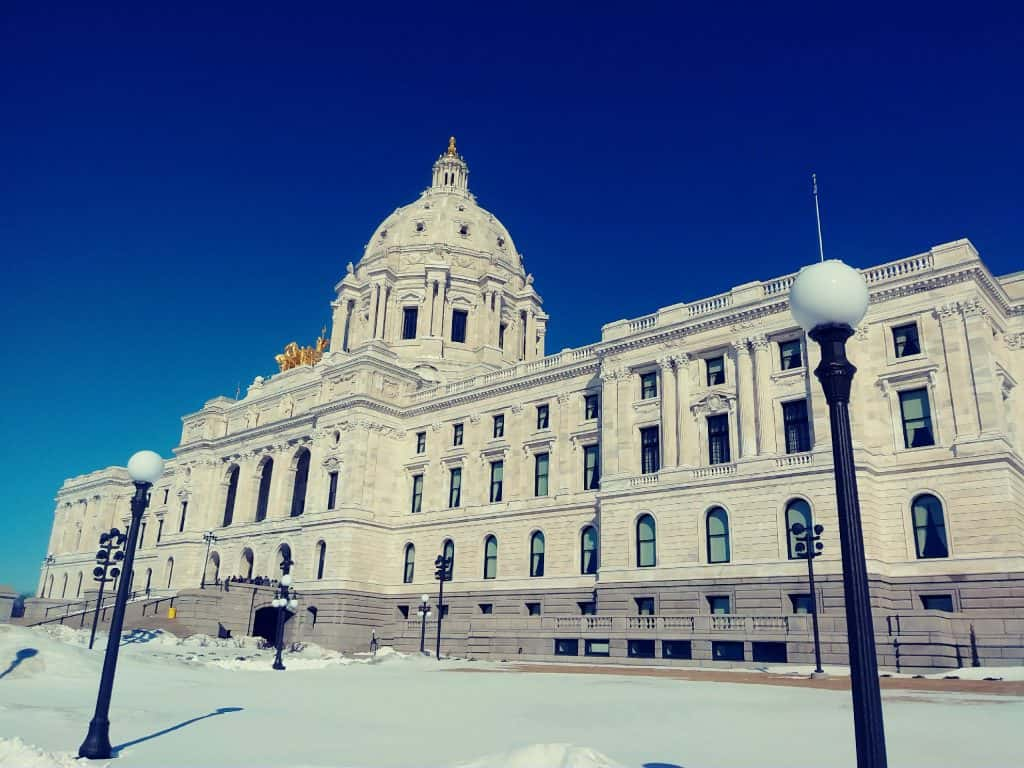 Today I had the chance to see one of the truly great perks of living in the American Republic, and that was the people's right to talk with their law makers.  We have all heard how we shouldn't take that right for granted. There are people and organizations that know the power of that fundamental right.   I was privileged to join the Minnesota State Cattlemen's Association for what they call their "Day at the Capitol".  It's a day that members have meetings scheduled for them with their representatives, and other officials, to discuss the topics that are affecting them and their operations. The Cattlemen are certainly not unique with this endeavor, many Ag groups have them.
I saw a lot, but I was surprised at what I didn't see.  I heard a lot, but I was shocked at what I didn't hear.
The day began with a briefing to the members in attendance. What their schedules were, and how they are expected to conduct themselves for this event. There were about 30 or so people in attendance for this event. That was what struck me at first.  The Minnesota State Cattlemen's Association is a large organization. I have seen them fill a convention room.  What I saw today was a small sampling of that membership. The members that were there, are what I would call the usual suspects of the organization. The people that show up and get their hands dirty, so to speak, for what they believe in.
In this meeting, the group was addressed by the Speaker of the House for Minnesota. You may not think so, but this is a huge deal. While these legislators do represent the people, it's not every day the Speaker of the Bouse addresses your group.  The Speaker talked about the legislative concerns that are facing agriculture in general, and the Cattlemen in particular.  Once he had said his piece, he asked if anybody in the room had any questions or comments for him.  This is the point where I heard the scariest sound you can hear: Silence.
As a journalist, I don't interject myself into moments when politicians open the floor to the public. It's not ethical to interrupt them. It's their forum, and I am just here to tell the story. But what seemed like an eternity, was actually about fifteen to twenty seconds.  In that moment I was scared that the people were going to let this opportunity get away. Thankfully, the organization's ever-vigilant Executive Director spoke up, and eventually got the ball rolling.  After that the questions did flow.
Now, I am by no means picking on the Cattlemen.  They are an organization that has always been good to me, as an ag broadcaster. But I am using the experience of their event to illustrate my point. If you are concerned about what is happening in government and how it affects your operation, you can't stay at home.  If regulations that are being proposed by people who have no idea what effect they will have on the people that they intend to regulate, you can't remain silent.  If you are a member of an organization whose membership numbers in the triple and quadruple digits, you cannot let the same thirty or forty people go to bat for you. What would happen if that small group of people decided to do as you did, and stay home?  Who would voice your concerns then?
In closing, let me say this: Don't sit on the sidelines! Don't wait on the other person to ask a question first!  Your lives are being affected by the decisions being made in concrete and marble buildings, sometimes hundreds or thousands of miles away. These regulations affect agriculture as a whole. I heard in State Ag Committee testimony, today, that the average size of a cattle herd in Minnesota is thirty-five head. THIRTY-FIVE HEAD. Let that sink in. It doesn't matter if you farm 80 acres or 5,000.  They don't care if you have ten head of livestock or ten thousand.  These regulations aren't made depending on the size of your operation.  They are being made based on the job you are doing and the product you are producing.  These issues don't get solved in the coffee shop, no matter how many "answers to the world's problems" you all come up with.  Regulations don't get changed if only a small handful of producers take advantage of the public comment periods.  Agriculture certainly cannot be helped by sitting at home and waiting on the other guy to step up. There is strength in numbers.  The people that oppose you know this.  It's time you step up and bring numbers to stand against those who would rule and regulate you until you have nothing to pass on to the next generation.
Share this article