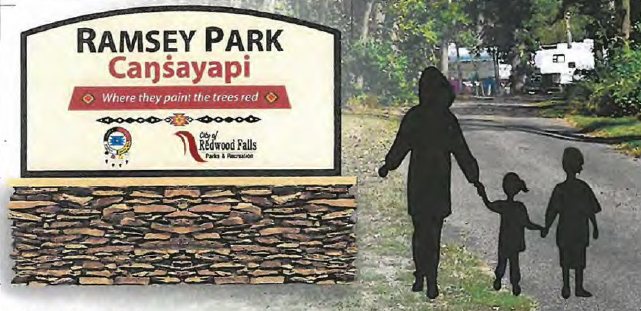 Ramsey Park in Redwood Falls is soon going to have new, bilingual signs, listing what the park is called in both English and its original Dakota name.
On Tuesday, the Redwood Falls City Council approved the design, funding sources, and timeline for new signs. Parks and Recreation Department staffers and members of the Lower Sioux Community collaborated to create designs for four new signs: a main one at the west entrance of the park, and three small monument signs inside the park.
The signs will list both the name "Ramsey Park", and "Cansayapi" (CHAHN-shy-ap-ee), the Dakota name for the land, which translates to "Where they paint the trees red".
Total cost of the new signs is estimated at $33,850, with funding to come from the Lower Sioux Community, the Friends of the Park, and the Blandin Grant. The hope is to have the signs made and installed by the end of April.
In other city news, the council:
Approved a $1,296,031 bid from Everstrong Construction in Redwood Falls to build the new seven-bay hanger for the Redwood Falls airport. The total amount of the construction and engineering is estimated at $1,378,791, with the federal government providing 90 percent of the funds, and the Minnesota Department of Transportation and city of Redwood Falls each providing five percent.
Construction is tentatively planned to start May 1, with most work except landscaping and paving finished by Dec. 28.
Approved a conditional job offer to Colby Davis as a new Redwood Falls Police Officer, pending standard background checks, physical exams, and other testing.
Approved a $124,520 bid from L&S Electric of Minneapolis for generator repairs for the Public Utilties.
Approved a cooperative agreement with the Minnesota Department of Transportation in which the city of Redwood Falls will pay MNDoT $381,105 as its share of upcoming improvements and associated construction of a portion of Highways 19/71 through Redwood Falls.
Share this article