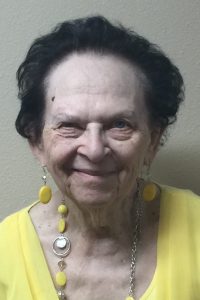 Lillian Caroline Stark, age 86, of Buffalo Lake died Thursday, March 1, at the Olivia Nursing Home and Rehabilitation Center.  A memorial service will be held Tuesday March 6 at 11 a.m. at St. Paul's Lutheran Church in Stewart with Rev. Mahlon Bekedam officiating.  Burial will follow in the church cemetery.  Visitation is Tuesday at the church for one hour prior to the service.  Arrangements are with Dirks-Blem Funeral Service of Olivia.
Lillian Caroline Westphal, the daughter of Ferdinend and Bertha (Thiel) Westphal, was born on March 21, 1931 in Preston Lake Township, Renville County Minnesota.  She was baptized and later confirmed at St. Paul's Lutheran Church in Stewart, Minnesota. Lillian grew up in Preston Lake Township where she attended rural school before graduating from Buffalo Lake High School in 1949. Lillian was united in marriage to Albert Stark on December 23, 1961.  To this union was born two sons and a daughter.  They made their home in Buffalo Lake their entire married life.  Lillian was a homemaker and ran the office for the family construction business.  Later, she worked at the Home Bakery in Buffalo Lake for many years until her retirement.  During her retirement, she enjoyed listening to polka music, dancing and caring for her faithful dogs.  Lillian loved her old-time music, spending time with her children, grandchildren and great-grandchildren, and traveling.
She was preceded in death by her husband, parents, and two sisters.  Lillian is survived by her sons Douglas Stark and his wife Darla of Gibbon, MN; Lee Stark of Buffalo Lake MN; daughter Nyla Emmons of Bird Island, MN; grandchildren: Brea (Brian) Schultes of Shoreview, MN; Jamie (Chris) Donovan of Burnsville MN; and Steven (Jessica Holtz) Stark of Dassel, MN; and her five great-grandsons Torren, Kieran, Keegan, Liam and Leonidas.
May the Lord bless the memory of Lillian Stark to all who love her and sorrow at her death.  Her sweet, caring personality will be missed by all.
Share this article