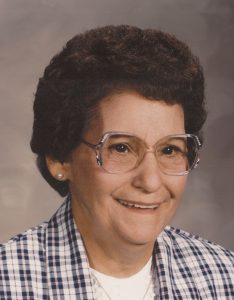 Betty Lewell (Bluestone) Lee, 91, of Morton died Tuesday, February 27, 2018 at her home.  Funeral services will be held at 11 a.m. on Friday, March 2, 2018 from St. Cornelia's Episcopal Church on the Lower Sioux Community with burial to follow in the church cemetery. Visitation will be held Thursday, March 1, 2018, from 4 until 8 p.m., at Nelson-Hillestad Funeral Home in Redwood Falls and will continue on Friday at the church hall, from 10 until 11 a.m.
Arrangements are with Nelson-Hillestad Funeral and Cremation Service of Redwood Falls. Condolences may be sent via www.nelson-hillestad.com.
Betty Lewell Lee, the daughter of Samuel C. and Marie (Moren) Bluestone, was born October 13, 1926 in St. Paul. She was raised on the Lower Sioux Community and received her elementary education there. Betty graduated from the Indian School at Flandreau, South Dakota on May 17, 1946 and lived in various places before returning home to the Lower Sioux Community to raise her family.
As a mother to her kids, she was always there for them. Betty set high expectations with all of her children, to help direct them to be the best people they could be in the world. As raising her kids she has always loved them in any situation. As the loving person she was, her love was contagious. She'd never bring a person down, she was a confidence booster. A person to bring you up when feeling down. A person who put her children, grandchildren, and great grandchildren first. Her love of her family was extremely carrying. To showing up to any recital, show/ play, or sporting events. Bringing in that positive energy to all. You could go to her for guidance, to direct you in the right way, or any sort of help you might need in any situation. She was a person that made the best of every situation. No matter what or how she was feeling that day, if her family needed her for anything, she was there. To boost your mood back up.
Betty was employed as Concessions Manager at Jackpot Junction from October 8, 1984 until she retired on December 1, 1991.  She served her first term on the Lower Sioux Tribal Council from 1979 to 1981 and was elected to a second term in 1989 and served until 2001. Betty was elected again in 2009 and served until May 2012 when she removed herself due to health reasons. Betty was a member of St. Cornelia's Bishop Whipple Mission on the Lower Sioux Community.
For the community, Betty has been the most carrying person that people trusted. As most could describe her as an optimistic person, where she was always positive in any case. Others might describe her as an angel of mercy, known to bring help. We all knew she was one of the oldest on the reservation, where she brought the most background and energy to our community today.
As Betty moved on through her life as she enjoyed spending as much time as possible with her family, might be watching movies on her small couch or taking a trip fishing on the lakes. Betty enjoyed puzzles, all sort of puzzles. From our native culture to animals she was inspired by. Some could say she would almost be described as a hoarder, she kept every newsletter, picture, and any object given to her by every child, grandchild, and great grandchildren. Her love for you family was indescribable.
As her life was coming to an end, Betty let her family know that everything would be alright. She knew that she had passed on all of her knowledge to her family and community. She has taught so many of us, the right and wrongs of life. Not only was she a mother to her children but to her entire family and community.
Betty is survived by her sons Rodney Berry, Bruce Berry, Roger Berry, and Dennis Berry all of the Lower Sioux Community; 18 grandchildren; and many great-grandchildren. She was preceded in death by her husband Robert Berry, Sr. on January 3, 1972; sons Robert Berry Jr. and Richard Berry; daughter Marie Berry; brothers Harry and Donald; sisters Margorie, Leona, Maude; and three sisters in infancy.
Blessed be her memory.
Share this article