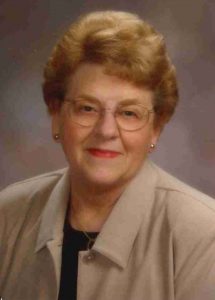 Jeanette A. Kingery Rempel age 86, of Springfield, died on February 23, at Mayo Clinic Health System, in Mankato.
Visitation will be on Saturday, March 3, from 2:00 pm to 3:00 pm at the Chapel of the Good Shepherd at St. John Lutheran Home in Springfield.
Memorial services will be held at the Chapel of the Good Shepherd at St. John Lutheran Home on Saturday at 3:00 pm.
The clergy will be Chaplain Noel Wetter. Inurnment will be held at a later date at the Springfield City Cemetery.
Arrangements are with the Sturm Funeral Home in Springfield. On line condolences may be left for the family at www.sturmfh.com.
Jeanette A. Rempel was born on November 26, 1931 to David and Lenora (Woodraska) Miller of Academy, SD. Jeanette was baptized in Kimball, SD. She graduated from Kimball High School in Kimball. On September 2, 1949, she married Carl L. Kingery. The couple lived and worked in Kimball where they were partners in a grocery store. In 1963, Jeanette and Carl moved to Springfield, MN where they operated Kingery's Department Store. Upon Carl's death in 1970, Jeanette continued to operate the fabric shop "The Sewing Basket". In 1971, Jeanette married Walter Rempel of Springfield. After selling the fabric shop, she worked at the Springfield Hospital in the business department for 22 years. She was a member of Circa Studi Study Group, the Springfield Golf Club, and United Methodist Church. Jeanette enjoyed sewing, golf, crocheting, painting, and meeting friends for coffee.
She is survived by her son Steve (Linda) of Show Low, AZ and their daughter Kyla (Andy) Kingery-Allen and their children Marin and William of Phoenix, AZ; daughter Carolyn (David) Wendt of Springfield and their son Jacob (Jennie) and children Addison and Zoey Wendt of Mayer, MN, daughter Bethany Wendt (Sam Timm) of Scottsdale, AZ, and son Marcus (Katie) Wendt and children McKenzie and Briggs Wendt of Glenwood; step-daughter Terri (George) Silbersdorff of Kent, WA and their daughter Amber Osland of Tacoma, WA; and step-daughter Jodi (Paul) Kjolhaug of Cokato, MN and their son Nathan (Annie) and children Logan and Grace of St. Paul, MN, daughter Sarah (Dave) Logan and children Ella and Jack of Eagan, MN, son Aaron (Jerri) and child Olivia of Deephaven, MN, and son Andrew (Lindsay) and children Elijah, Johanna, Daniel, and Elizabeth of Alexandria, MN. Jeanette was preceded in death by her parents; husbands Carl and Walter; and siblings – Alyce Gerkin, Walter Miller, and June Slangal.
Share this article