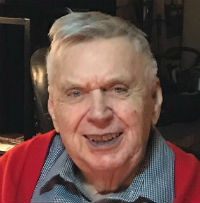 Raymond Grefe, age 90 of Walnut Grove, passed away Thursday, February 22, 2018 at his home in Walnut Grove.  Funeral Services will be held at 11:00 a.m. Thursday, March 1 at English Lutheran Church in Walnut Grove.  Visitation will begin at 9:30 a.m. until the time of the service at the church.  Interment will be in the Walnut Grove Cemetery.  Online condolences may be sent at www.stephensfuneralservice.com.  Stephens Funeral Service – Walnut Grove Funeral Home is assisting the family with arrangements.
Raymond Louis Grefe was born on December 20, 1927 to Theodore and Clara Grefe in Truman, MN. He graduated from Truman High School in 1945 and served in the Navy for one year and was honorably discharged in 1946 after the war ended. He graduated from the University Of Minnesota School Of Veterinary Medicine in 1954. He came to Walnut Grove and set up his practice in 1956. He and Joni Grams were married on February 27, 1960. In 1961 they built a new home together and he was able to stay there until his death.
He was a large and small animal veterinarian in the Walnut Grove and Westbrook area for over 40 years. During his time in Walnut Grove he was very civic minded, serving as the city's mayor for 13 years. During that time, one of his achievements was to convince Continental Grain to build an elevator in town. He also served on the Redwood County Park Board and was instrumental in getting Plum Creek County Park developed southwest of town. He was a founding and lifelong member of the Walnut Grove Lions Club and enjoyed participating in all of the club's numerous activities. He enjoyed traveling with his wife, Joni. Together they visited numerous countries including England, China, Russia and many parts of Europe.
In his later years he was a devoted grandpa keeping up with his grandchildren's activities. He was able to attend their numerous graduations and was also able to attend his granddaughter's wedding. He enjoyed family times together, especially holidays.
He was preceded in death by his wife Joni, daughter Ann, and siblings: Erhardt, Herman, Paul, Fred, William, Marie, Lucia and Clarine. He is survived by his sons: Tim (Marilyn) and Scott (Lorie); grandchildren Bill, Katie (Dallis) and Peter; and sister Martha.
Share this article